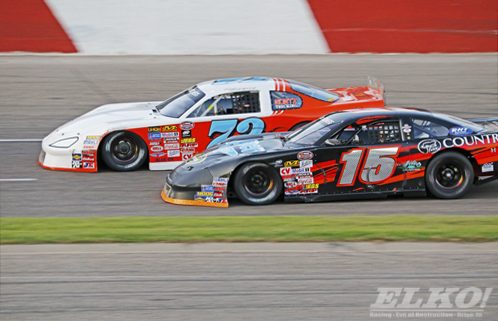 By Jason D Searcy
September 14th, 2016
The first of three Season Championship nights is coming up on Saturday September 17th as the MN Corn Growers Super Late Models and the Hiway Federal Credit Union Big 8 divisions will both crown a Champion at Elko Speedway.
The premier Super Late Model division comes down to two heavyweight contenders with similar resumes.  Jacob Goede #72 from Carver (MN) is the two time defending Champion at Elko that returned to his home track after years racing the Regional Touring Series circuit.  Goede has won some very impressive races over the years, including an ASA Late Model event at both Iowa Speedway and Bristol Motor Speedway in 2007.  He also was the Midwest Tour "Rookie of the Year" in 2009 and won races at I-94 Raceway and Illiana while racing the Midwest Tour.
He also has won the most prestigious events at Elko Speedway as well, claiming an overall victory in the Dwain Behrens memorial this year and in 2014.  He also won the Thunderstruck93 inaugural race in honor of Dan Ryan in 2009.
Jacob returned home to race at Elko and has dominated the Super Late Model division, winning the Championship and scoring wins in the double digits the previous two years.  This year has been a little different, he has the point lead, but has scored only three wins at Elko Speedway.
Joey Miller #15 from Lakeville (MN) is looking to take the crown from Goede.  Ten years ago Miller was a rising young star in racing, he raced the National ASA Tour and then scored five wins in the ARCA series before making his way all the way up to the NASCAR Craftsman Truck Series and racing for Darrel Waltrip.  He scored a Top 5 finish in Mansfield OH in 2006. 
Since that time Miller has taken some time off from racing and done just a part-time schedule but just this year he returned to his home track at Elko Speedway in hopes of winning a title.
In his first year back racing full-time Miller hasn't missed a beat, he has scored five wins and is in contention coming into the final night of racing in the NASCAR Whelen All American Series season at Elko Speedway.
Here is the situation – Goede has a 55 point lead. 
Both drivers will qualify with an opportunity to score 15 points for the winning "Fast Time", second will get 14, third will get 13 points and so on until fifteenth gets 1 point.
They will race Two 30 lap Feature Events.
The winner can score 51 points, second 48pts, Third 46pts, Fourth 44pts, Fifth 42pts, Sixth 40pts, Seventh 38pts, Eighth 36pts, Ninth 34pts, Tenth 32pts, Eleventh 31pts, Twelfth 30pts, Thirteenth 29, Fourteenth 28, Fifteenth 27, Sixteenth 26, Seventeenth 25 and Eighteenth and below all scoring 24 points.
Which means Miller potentially could gain 15 points on qualifying and if both cars start both features that is a maximum of 27 points gained per feature.  If he wins Miller has the potential to gain a total of 69 points on Goede plus Miller has the tie-breaker of most wins (5 to 3). 
Goede will look to take the pressure off by laying down a fast lap in qualifying and then finishing the first feature.  Goede would like to have at least a 28 point lead going into that second feature so just by taking the green flag he would have his third consecutive Championship sewn up.
Another factor on Championship night at Elko Speedway is that #91 Ty Majeski from Seymore (WI) is expected to attend.  Majeski is racing for the NASCAR Hometracks Division I National Championship, coming into the weekend he is only a handful of points out of the lead and if he scores one or more wins at Elko Speedway he could add National NASCAR Champion to his already stacked racing credentials.  This will be the final night of racing in the NASCAR points season.
Majeski is the two time defending ARCA Midwest tour Champion, overall winner of the Kulwicki Driver Development Program award and was recently signed to a development deal by Roush-Fenway racing.  Majeski knows Elko well, he has raced here two weekends this year, he scored a second place finish on September 3rd.  He also won the Thunderstruck93 Midwest Tour race here one year ago.
Race fans should expect twenty or so of the best Super Late Models in the Midwest and some great racing for the Season Championship in the MN Corn Growers Super Late Models Saturday night September 17th.  The Hiway Federal Credit Union Big 8 division will also crown a Champion that night and racing as well in the Pepsi Power Stocks, Genz-Ryan Thunder Cars, Great North Legends, Hornets and Bandolero's.
Numerous high profile Midwest tour drivers are expected to enter Elko Speedway this weekend and take part in the Super Late Model Championship.
Remember the ARCA Midwest tour is scheduled to race a 125 lap feature at Elko next weekend on Saturday September 24th during the Thunderstruck93 event.
Gates open at 5pm and action begins at 6pm.  Get more information by going to ElkoSpeedway.com, or following Elko Speedway on Social Media, or by downloading the free ELKO Racing app.
Elko Speedway is located 30 minutes South of Downtown Minneapolis just off of I-35 and County Road 2 in Elko (MN).
*Note— A preview of the Big 8 division season championship is coming up soon.