May 28, 2022 – Elko, MN
By Jason D Searcy
The Memorial day weekend Eve of Destruction marked the 57th season opener at Elko Speedway with a huge crowd and nearly perfect weather. NASCAR weekly racing coordinator Emma House was in attendance and the opening ceremonies were highlighted by the Apple Valley VFW Color Guard.
The NASCAR Late Models presented by the Car Lot of New Prague (MN) had 21 cars and had two 25 lap feature events.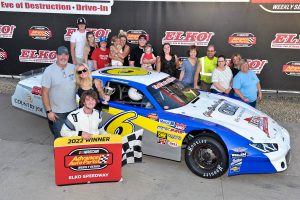 The first feature had a 20 year old former ELKO Bandolero champion #6 Owin Giles from New Market (MN) winning by a margin of 0.647 seconds, #32 Jeremy Wolff was second, #21 Adam Bendzick was third, #52 Chad Walen fourth and defending Champion #72 Jacob Goede was fifth. Fast qualifier #3 Chris Marek did not finish as he was battling an illness.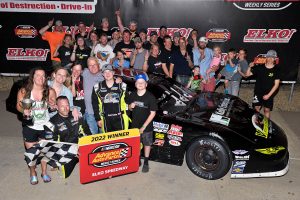 The second feature event had a former two time ELKO Powerstock champion #10 Dusty Mann from Elko (MN) winning, it was his first career win in the Late Model division, the margin of victory was 0.813 seconds. Chad Walen #52 finished second, 15 yr old Adam Ratliff #6 finished third after leading some laps, #32 Jeremy Wolff fourth and #72 Jacob Goede fifth.
Former two-time Thunder Car Champion Bryce Blohm #37 debuted as a Late Model driver and finished 6th and 7th. Nine-time ELKO Champion #41 Donny Reuvers finished 12th and 13th. Darren Wolke #38 returned to racing at ELKO after an 8 year absence. Former Big 8 champion Jake Ryan returned to ELKO and finished 10th and 14th.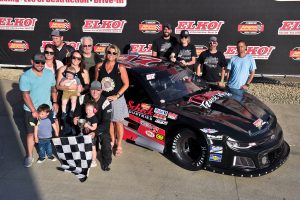 The NASCAR Thunder Car division raced two 20 lap features during Eve of Destruction at ELKO. Defending Champion #07 Dillon Sellner from Randolph (MN) won the first race by 0.362 seconds, fast-timer #99 Brent Kane was second, #3 Conrad Jorgenson gained the lead because of a daring three-wide outside pass but then lost the lead with just a few laps to go after pitting for a mechanical problem during caution, he then raced his way back to finish third, Taylor Goldman #8 fourth and Ben Gannon #41 finished fifth.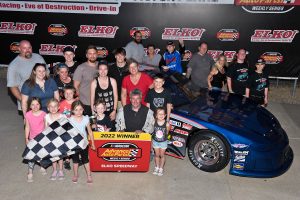 The second Thunder Car feature had 6-time ELKO Champion #3 Conrad Jorgenson wining by 2.199 seconds, Brent Kane was second, Dillon Sellner finished third, Ben Gannon got fourth after leading some laps and #09 Matt Wiebusch was fifth.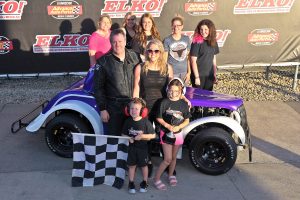 The INEX sanctioned Great North Legends division raced two 20 lap feature events at Elko Speedway. In the first race two-time ELKO Late Model champion #71 Jon Lemke from Savage (MN) started 6th and won the race, fast qualifier #75 Baiden Heskett moved up 8 spots from the start and finished runner up only 0.083 seconds behind, #8 Colin Stocker finished third, defending Champion #87 Robby Carter was fourth and #7 Jacob Tiegen fifth of the 21 cars entered.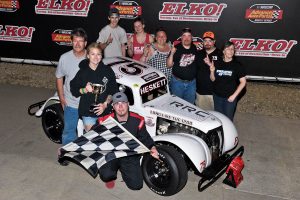 2018 ELKO Legends Champ Baiden Heskett who is originally from Texas now living in Hasting (MN) won the second feature, Jacob Tiegen who comes up from Iowa to race at ELKO was second 0.407 seconds behind, Colin Stocker was third, Jon Lemke fourth and Tyler Ledbetter was fifth.
It was the first ever ELKO Legends race for defending Bando Champion #12 Ayrton Brockhouse, he finished 7th and 8th in the two feature events.
The NASCAR Power Stock division had 13 cars on opening night at ELKO and raced two 20 lap feature events. The first race had veteran driver #66 Joe Prusak from Clayton (WI) winning in his Kenny Shrader throwback paint scheme, it was the 208th win of his career. Fast-timer and 4-time ELKO champion #88 Nick Oxborough finished second 0.971 seconds behind, #57 Jesse Fischer finished third after leading some laps, #08 Mike Stoer fourth and #56 Paul Hamilton fifth.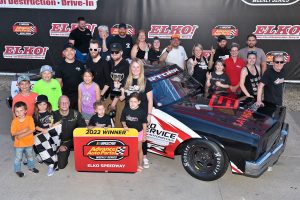 The second Power Stock feature of the season was won by Mike Stoer from Prior Lake (MN), Jesse Fischer was second 0.438 seconds behind, Joe Prusak third, Jimmie Jorgenson #3 was fourth and #8 Eric Montour fifth. Nick Oxborough was leading the race and then dropped out on lap 16 with a mechanical problem finishing 11th.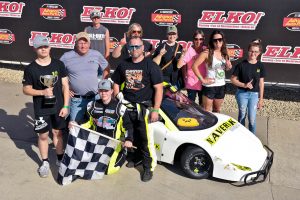 The INEX Bandos raced two feature events during Eve of Destruction at Elko Speedway. Both races had thrilling finishes, the first one was won by Danny Mann #10 from Elko (MN), he was pressured late in the race by second place finisher #12 Ayrton Brockhouse who finished 0.147 seconds behind. Ayrton's brother Ayden Brockhouse #13 was third, #18 Leighton Rose fourth and #56 Clayton Dorner fifth. Danny Mann won on the same night as his Father Dusty Mann who was the victor in the Late Model division.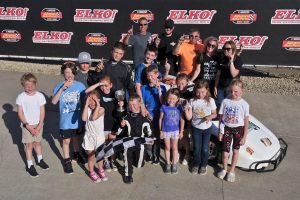 The second 12 lap feature event had Leighton Rose from Elko (MN) winning his first career Bando race, he and defending champion Ayrton Brockhouse swapped the lead numerous times in the closing laps of the race in a good, hard and clean racing fashion, he won by only 0.389 seconds at the finish line. Ayrton Brockhouse finished second, Ayden Brockhouse was third, Colton Roe Pershall #32 from Onalaska (WI) was fourth and Clayton Dorner fifth of the 10 cars entered.
All results are unofficial
The huge Eve of Destruction crowd was awed by Rockstar Russ and his Flaming Burnout exhibition, a great display of precision driving talent with the Drifters plus the Timberworks Lumberjacks performed. Zachary Martin from Arlington (MN) won the Spectator Drags in a 2001 Ford Mustang. Legendary Monster Truck USA-1 along with Barely Tame and Mechanical Mischief Monster Trucks thrilled the crowd crushing cars and the popular figure 8 School Bus Races ended the night with a bang as per ususal.
Up next at ELKO is a night of music with Hairball topping the bill on Saturday night June 4th, gates open at 7pm.
Next race night is Saturday June 18th Eve of Destruction with all classes of racing, ATV Big Air show, Monster Trucks and much more.
Elko Speedway is a NASCAR sanctioned 3/8th mile asphalt oval race track located 30 minutes South of the Twin Cities in Elko/New Market MN. Get more information at ElkoSpeedway.com