June 25, 2022- Elko, MN
By Jason D Searcy
The annual NASCAR ARCA Menards series race has become a great tradition, a time for the true race fans to spend a full day at the track enjoying practice, qualifying and some of the best NASCAR racing to be found in all the Nation all here on the 3/8th mile Elko Speedway, the smallest track on the historic ARCA circuit.
Elko is the shortest track in size but it is not lacking in excitement or enthusiasm, especially when there is a local rising superstar for the fans to get behind. 18 year old Sammy Smith from Johnston (IA), spent some of his formative years racing at Elko Speedway in the Great North Legends division, he not only raced at ELKO but won at ELKO, he picked up 4 main event wins between the ages of 13 and 14 in 2018.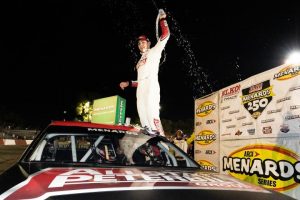 Sammy Smith #18 has risen in the motorsports ranks and now drives a Toyota for Kyle Busch Motorsports in the ARCA series, Smith returned to Elko Speedway hot off his first ARCA win of the season last week at Berlin Raceway near Grand Rapids (MI).
Smith had an incredible night in his return to Elko Speedway, he was the fastest car in practice, he won the General Tire Pole award as the fastest in qualifying. He also dominated the Menards 250 main event, leading all but 17 laps on his journey back to Victory lane at ELKO.
Jesse Love #20 from Menlo Park (CA) was the biggest rival for Smith during the race but, Smiths' biggest challenge was from lapped traffic. He had to aggressively weave through lapped cars numerous times as Love was in position to pounce at any slip-up. Sammy Smith never made a mistake, even in numerous 3-wide situations, he drove a nearly flawless race and won by an impressive 4.119 seconds at the checkers over Jesse Love.
16 year old Landon Pembelton #15 from Amelia County (VA) battled side by side all night for a podium finish at Elko Speedway, he scored an impressive 3rd place finish in his first career ARCA start.
Taylor Gray #17 from Denver (NC) was fourth, #43 Daniel Dye from Deland (FL) was fifth and veteran driver #55 Tom Hessert from Haddonfield (NJ) was 6th and the final car on the lead lap. Another driver with local ties, Willie Mullins #12 from Fredricksburg (VA) finished 9th, 20 cars qualified for this race.
Sammy Smith adds his name to the accomplished list of ARCA winners at Elko Speedway that includes; Brennan Poole, Frank Kimmel, Grant Enfinger, Austin Theriault, Gus Dean, Chandler Smith and Corey Heim.
Elko Speedway has been a NASCAR sanctioned track since 1987, the premier division is the Late Models sponsored by The Car Lot in New Prague (MN). An impressive field of 23 Late Models raced an entertaining 40 lap feature event during ARCA night.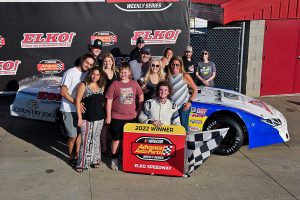 Owin Giles #6 from New Market (MN) won his second Late Model race of the season at Elko Speedway. He led the final 30 laps of the race and won by a margin of 1.363 seconds. Michael Ostdiek #18 finished second, #8 Billy Mohn was third, #32 Jeremy Wolff fourth and fast-qualifier #13 Bryan Wrolstad was fifth. 8-time ELKO Champion #72 Jacob Goede finished 7th, Steve Anderson Jr #50 led some laps and finished 11th, #06 Adam Ratliff led some laps, ran into some trouble and finished 19th.
Chad Walen #52 now leads #72 Jacob Goede in the race for the ELKO Late Model Championship by 17 points.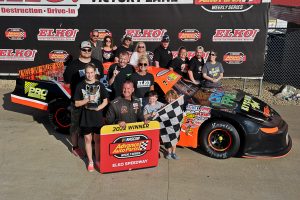 Brent Kane #99 from Lonsdale (MN) won the Genz-Ryan Thunder Car 30 lap main event. Kane outlasted #3 Conrad Jorgenson after an epic 15 lap clean side by side battle of two of the biggest names in ELKO Thunder Car history, Kane (who has 4 ELKO Thunder Car Championships) just edged Jorgenson (who has 5 ELKO Thunder Car Championships) by 0.258 seconds at the finish line. It was the second win of the season for Kane. Defending Champion and fast-timer #07 Dillon Sellner finished third, #20 Devin Schmidt fourth and #14 Tony Holm was fifth of the 12 cars racing.
Conrad Jorgenson now leads Brent Kane by 8 and Dillon Sellner by 10 points in the race for the Thunder Car Championship at Elko Speedway.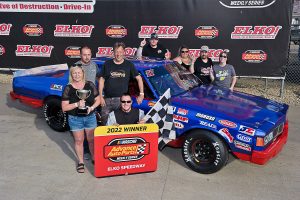 The NASCAR sanctioned Power Stock 30 lap main event had #57 Jesse Fischer from Eagan (MN) winning, Fischer had to pass #66 Joe Prusak on lap 4, weave through lapped traffic and then hold off 4-time defending Champion and fast-timer #88 Nick Oxborough for the win by less than one car length. Oxborough finished second, Prusak was third, #19 Mark Berg fourth and #08 Mike Stoer fifth of the 13 cars racing.
Nick Oxborough now leads Joe Prusak by 8 points in the race for the 2022 Power Stock Championship at Elko Speedway.
All results and points are unofficial at the time of this release.
Up next at ELKO is an Eve of Destruction on Saturday July 2nd with Fireworks, racing in all 5 divisions, BMX, Monster Trucks, Jet Truck, a petting zoo, spectator drags and Figure 8 school bus races. Gates open at 4:30pm. Get tickets and more information at ElkoSpeedway.com Elko Speedway is a 3/8th mile NASCAR Sanctioned race track with stadium seating located 30 minutes South of the Twin Cities in Elko/New Market MN.