July 31, 2021 – Elko, MN
By Jason D Searcy
A full night of NASCAR sanctioned racing at Elko Speedway took place Saturday July 31st under a hazy sky due to the Canadian wildfires.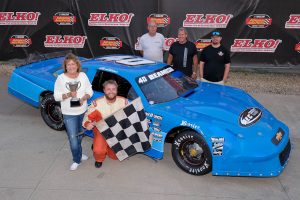 In the first of two 25 lap NASCAR Late Model feature events sponsored by The Car Lot of New Prague (MN), Michael Beamish #40 from Eagan (MN) grabbed the early lead and never looked back. Beamish outran the field of 18 cars and won the cautionless race by 2.059 seconds, it was his first win of the season at ELKO. Michael Ostdiek #18 finished second, #19 Michael Haggar third, tenth starting Bryan Syer-Keske #81 was fourth and #26 Lawrence Berthiaume fifth. Fast-timer #72 started the race 13th and finished sixth.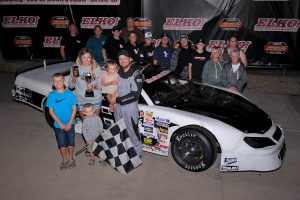 The second Late Model feature was a much closer affair with #8 Billy Mohn from Lakeville (MN) battling with #52 Chad Walen side by side for numerous laps until #72 Jacob Goede worked his way up from the 7th starting position to challenge for the lead. Goede dove down on the low-side of Mohn the last few laps and the two heavyweight fighters fought it out to the delight of the crowd. Billy Mohn took all the punches and just barely held on for the win, it was his third victory of the year at Elko Speedway. Jacob Goede was second, he finished 0.040 behind Mohn, Chad Walen was third, #07 Teddy Kottschade fourth and #13 Bryan Wrolstad fifth. There were no caution periods in either of the Late Model races.
Jacob Goede still leads in the season point standings by 52 over Chad Walen and 101 ahead of Billy Mohn.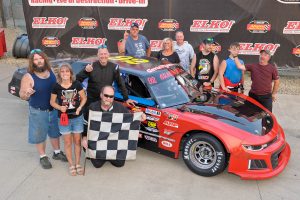 The Genz-Ryan Thunder Cars raced two 20 lap features on Saturday night at ELKO. In the first race #92 Norm Grabinger from Faribault (MN) took the lead from the pole position. Grabinger had a big lead until #20 Dave Robinson spun bringing out a caution with 5 laps to go. Grabinger then went side by side with #09 Matt Wiebusch for several laps, Matt Wiebusch then got loose down on the inside of the track, had to check up and dropped back, just then Matts' brother #9 Adam Wiebusch challenged Grabinger on the high side for the lead and they went side by side racing towards the finish. It was a photo finish as Grabinger held on for the victory by only 0.044 seconds, it was his first win of the year at ELKO. Adam Wiebusch was second, fast qualifier #07 Dillon Sellner was third, Matt Wiebusch fourth and #3 Conrad Jorgenson finished fifth of the 11 cars entered.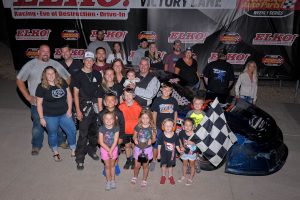 The second Thunder Car feature had #56 Johnny Magnum take the early lead until #3 Conrad Jorgenson from Lakeville (MN) took over the top spot on lap 3 and cruised for a victory in this caution-free race, he won by an impressive 4.019 seconds, it was his sixth win of the season at Elko Speedway. Dillon Sellner #07 was second, #9 Adam Wiebusch third, #8 Taylor Goldman fourth and Johnny Magnum was fifth.
Conrad Jorgenson now leads Dillon Sellner by 13 points and Adam Wiebusch by 21 points in the race for the Thunder Car season Championship at ELKO.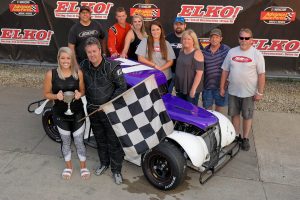 The Great North Legends sanctioned by INEX raced two 20 laps features on Saturday night at ELKO, in the first race #33 Ryan Rose took the early lead until #3 Luke Allen passed him with an inside move on lap four. Jon Lemke #71 from Savage (MN) moved up from his 10th starting position to take the lead on lap six and then the caution came out on lap seven resetting the field. Colin Stocker #8 then battled with Lemke for the top spot, those two fought hard side by side numerous laps until Stocker had a mechanical problem and dropped out with five laps to go. Lemke then ran to the finish unchallenged and won by 0.664 seconds, it was his second win of 2021 at Elko Speedway in the Legends division. Ryan Johnson #03 came home to Minnesota from his full-time job working with an IMSA and GT World Challenge team down in Charlotte (NC), Johnson raced up from his 7th starting position to finish second after a furious battle with Luke Allen who was third, #11 Jesse Mahoney fourth and #64 Tyler Ledbetter fifth of the 17 cars entered. Fast qualifier #87 Robby Carter finished 7th.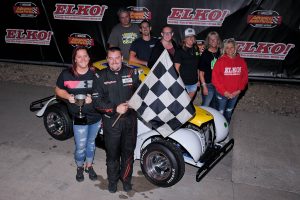 The second Great North Legends race had #9 Blake Haynes a former USAC dirt midgets driver in his rookie season at ELKO take the early lead, #87 Robby Carter from Lakeville (MN) then passed Haynes on lap seven. Carter was then challenged for the lead by Ryan Johnson, both of those drivers race a car painted up to took like a taxi in honor of their late car owner Richard Timm. Carter was able to fend back Johnson and won by just 0.176 seconds, Ryan Johnson was second and their other ISM team car #71 Jon Lemke was third. Colin Stocker #8 finished fourth and #33 Ryan Rose was fifth. It was the second win of the season for Robby Carter.
Robby Carter now leads in the Elko Speedway Legends point standings by 27 over Jon Lemke and 58 over Colin Stocker in the race for the season ending Championship.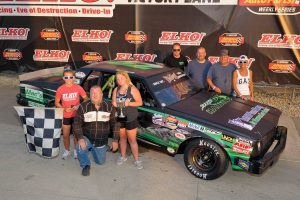 The Pepsi Power Stock division had two very exciting 20 lap feature events on Saturday night at ELKO. In the first race newcomer #3 Jimmie Jorgenson took the early lead and was challenged by #62 Tom Doten from St Paul (MN). On lap six Jimmie Jorgenson spun at the front of the field and numerous cars had to swerve and avoid, after the caution Doten took the lead until being challenged on the inside by 9th starting Julie Jorgenson #83, Jorgenson got loose on the inside and had to back out of the throttle, she then gathered the car back in and shot to the outside, she raced alongside but Doten was too strong and held onto the lead at the finish line. Tom Doten won by just 0.082 seconds at the stripe, it was his first win of the season at ELKO. Julie Jorgenson was second, fast-timer #88 Nick Oxborough raced up from the back of the pack to third after pitting during the lap 6 caution, #56 Paul Hamilton was fourth and #57 Jesse Fischer fifth of the 16 cars entered.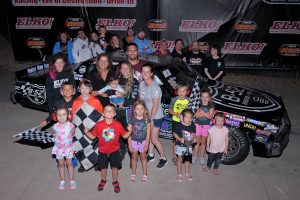 The second Power Stock feature at Elko Speedway had #8 Dave Montour taking the early lead until a yellow flag flew on lap two. After the restart #08 took the top spot and a big wreck happened right behind the leaders coming out of turn two, the result had the current point leader #88 Nick Oxborough and #57 Jesse Fischer both hitting the wall and sustaining terminal damage to their race cars. On the restart #83 Julie Jorgenson from Lakeville (MN) grabbed the top spot and shot to a big lead, with just two laps remaining #13 Matt Frye ran out of gas and brought out another caution. Former two time Power Stock Champion #10 Dusty Mann then took his best shot for the win, he got close and bumped Jorgenson on the last lap but she held strong and won by 0.356 seconds. It was the second win of the season for Julie Jorgenson at ELKO. Dusty Mann was second, #56 Paul Hamilton third, #08 Mike Stoer fourth, #66 Joe Prusak was fifth.
Nick Oxborough now has a 29 point lead over Julie Jorgenson and 64 point lead over Matt Frye in the race for the 2021 Power Stock Championship at ELKO.
The WISSOTA sanctioned Midwest Modifieds raced a 12 lap feature event on Saturday night at Elko Speedway. Defending Champion #81 Bryan Syer-Keske from Lakeville (MN) started on the front row, led every lap and won for the first time this year at ELKO. #96 Ryan Johnson had a strong run for second, semi-feature winner #100 Aaron Marthaler was third, #5 Scott Marschall fourth and #25 Eric Campbell blew his motor and spun going into corner #3, he did not finish.
The Bandolero's are a division that has kids from the ages of 8-14 racing in INEX sanctioned cars weighing 550 lbs and sporting 30 horsepower lawnmower motors. Elko Speedway had 10 cars racing two 12 lap feature events on Saturday night. Ayden Brockhouse #13 and #07 Jackson Kottschade swapped the lead early in the first feature until a yellow flag flew at lap five. Ayrton Brockhouse #12 from Shakopee (MN) then grabbed the top spot another caution period happened on lap 10 when Kottschade got caught up with a lapped car and spun. Ayrton Brockhouse restarted well and ran away with the win by 1.927 seconds, it was the third win of the season for Ayrton. Clayton Dorner #56 finished second, #000 Colton Roe-Pershall third, #18 Leighton Rose fourth and Ayden Brockhouse fifth.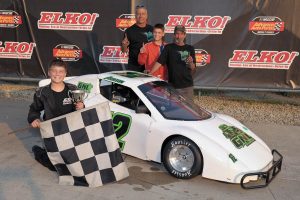 Ayden Brockhouse #13 took the early lead in the second Bandolero feature event at ELKO. A caution period happened after the second lap and on the restart the other Brockhouse brother #12 Ayrton Brockhouse grabbed the lead on an outside pass. Mid-race Ayden Brockhouse and the #10 of Dusty Mann both challenged Ayden Brockhouse for the lead causing a three-wide battle for the top spot. Another yellow flag flew causing a green-white-checker finish where Ayrton Brockhouse passed his brother Ayden coming to the last lap and he held on to win by 0.531 seconds. It was the fourth win of the season for Ayrton Brockholuse. Ayden Brockhouse was second, Danny Mann finished third, #18 Leighton Rose fourth and #56 Clayton Dorner was fifth.
All results and point standings are unofficial.
Coming up next at Elko Speedway is an Eve of Destruction event on Saturday August 7th, gates open at 5pm, action begins at 6pm. Expect NASCAR sanctioned racing, two Monster Trucks, the Amazing Wheel act, the Wildman Clay Gallagher 80's style stunts, Spectator Drags, Figure 8 School Bus races and much more. It's a Star Wars themed night with costumed characters contest, photo opportunities, light saber battle demonstrations and much more. Get more information at ElkoSpeedway.com, follow us on social media or download our free App by searching Elko Racing.
Elko Speedway is a NASCAR sanctioned 3/8th mile asphalt oval racetrack with stadium seating located in Elko-New Market (MN), 30 minutes South of the Twin Cities.