July 24, 2021 – Elko, MN
By Jason D Searcy

Saturday was a night for the true race fan as 11 feature events took place at the 3/8th mile asphalt oval at Elko Speedway, Minnesota's only NASCAR sanctioned track.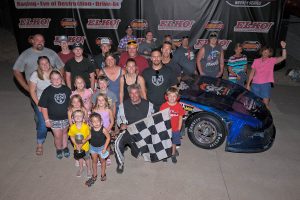 The first 25 lap feature in the NASCAR Late Models sponsored by The Car Lot in New Prague saw 21 cars take the green flag. The #50 of Steve Anderson Jr and #3 of Chris Marek of Lakeville (MN) raced hard early, Marek finally took the lead on lap six. A yellow flag flew at the half-way point of the race, after the restart #13 Bryan Wrolstad challenged Marek for the top spot, those two raced side-by-side inches apart, or even closer, the rest of the race. Marek held off Wrolstad through a caution period with six laps to go, driving hard and making the high line work, he won by just 0.203 seconds at the finish line, it was his first win of the season at ELKO. Bryan Wrolstad was second, fast-timer #72 Jacob Goede started 10th and finished third, #81 Bryan Syer-Keske was fourth and Steve Anderson jr was fifth. Buddy Kofoid from Penn Grove (CA), the USAC midgets national point leader, was spun and hit the wall; he did not finish the race.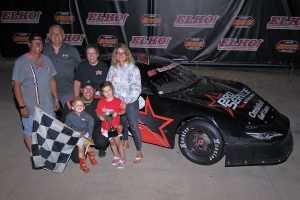 The second Late Model feature had #32 Jeremy Wolff take the early lead until #21 Adam Bendzick from New Prague (MN) passed him for the top spot on lap 5 of 25. Bendzick then shot ahead to a big lead, the race went cautionless and nobody was able to track him down, Bendzick won by an impressive 2.353 seconds at the finish line, it was his first win of the season. Second place finisher Billy Mohn #8 was just barely able to hold off a hard charging #72 Jacob Goede who raced up from his 9th starting position to finish third, #52 Chad Walen was fourth and #18 Michael Ostdiek was fifth.
Jacob Goede remains the point leader, he has a 39 point advantage over Chad Walen in the race for the Championship.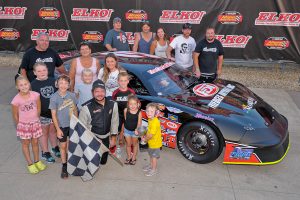 The Genz-Ryan Thunder Cars raced two 20 lap feature events, in the first one #92 Norm Grabinger took the early lead until #3 Conrad Jorgenson charged up from his 5th starting position, sustaining fender damage on the way, to grab the top spot with a pass on the high side on lap five. The exciting action was then mid-pack as #8 Taylor Goldman and #14 Tony Holm exchanged pleasantries numerous times. Conrad Jorgenson from Lakeville (MN) extended his lead and won by an astonishing 4.393 seconds in this cautionless race, it was his fourth win of 2021 at ELKO. Norm Grabinger was runner-up followed by #09 Matt Wiebusch in third, Taylor Goldman was fourth and #9 Adam Wiebusch was fifth. Fast-timer #07 Dillon Sellner was 8th of the 10 cars entered.
The second Thunder Car feature had #9 Adam Wiebusch taking the lead off the start, a caution period ensued on lap three, Wiebusch continued to lead off the restart and held the top spot until the white flag was in the air. Coming to one to go #3 Conrad Jorgenson from Lakeville (MN), who started 8th, raced up to pass Wiebusch on the high side for the win. Jorgenson won by 0.895 seconds, it was his fifth win of the season in just 7 events. Adam Wiebusch finished second, his brother #09 Matt Wiebusch was third followed by #20 David Robinson and #8 Taylor Goldman. The sheet metal on the right side of Dillon Sellners #07 car was ripped open like a can opener, after pitting, he finished 6th.
Conrad Jorgenson now leads Dillon Sellner by 19 points in the race for the Thunder Car Championship.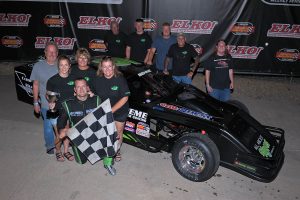 The WISSOTA Midwest Modifieds had enough cars to race on Saturday night at Elko Speedway, six cars took the green flag and raced 20 laps in their first feature event of the 2021 season. Ben Behne #5 from Owatonna (MN) took the lead from the start and never let it go during this caution-free race, he won by 1.477 seconds over defending Mod Champ and semi-feature winner #81 Bryan Syer-Keske, he moved up from fourth to finish second. Eric Campbell #25 had contact and blew a tire in the semi-feature, he finished third in the feature event. Ryan Johnson #96, who now lives in Charlotte (NC) recovered from a bad wreck in his Legends car to finish fourth and #5 Scotty Marshall was fifth. Darin Patnode #27 ran a soft dirt set-up in his car and his left front tire almost never touched the ground, he was sixth.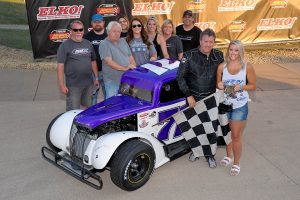 Seventeen INEX Great North Legends cars raced two 20 lap feature events at Elko Speedway. In the first race #33 Ryan Rose took the lead until #11 Jesse Mahoney passed him on lap 3, then a caution period happened on lap five. After the restart, eighth starting #71 Jon Lemke from Savage (MN) jumped up to the lead with a high side pass, he never relinquished that lead even though he was heavily pressured from behind. Lemke won by 0.423 seconds, it was his first win of the season in a Legends car at ELKO. Fast-timer #8 Colin Stocker won the furious battle for second, he edged out #87 Robby Carter by 0.041 seconds and #47 Austin Jahr by 0.098 seconds, Jessie Mahoney rounded out the Top 5 finishers.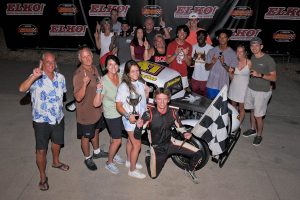 The second Legends race at ELKO had a big wreck in the first corner of the first lap, it resulted in #03 Ryan Johnson slapping the wall hard, two other cars dropping out and causing a caution period. On the restart #7 Jacob Tiegen took the lead until #47 Austin Jahr from Farmington (MN) raced up from his 8th starting spot and got side-by-side with Tiegen and then passed him on lap 7 of 20. After taking the lead Jahr had to hold back the challenges of former Bando Champion #8 Colin Stocker, Jahr ended up winning by 0.29 seconds, it was his second win of the season at Elko Speedway. Stocker was second, #87 Robby Carter third, Jacob Tiegen fourth and #71 Jon Lemke was fifth.
Robby Carter now has a 20 point lead over Austin Jahr in the race for the Great North Legends Championship at ELKO.


The first 20 lap Pepsi Power Stock feature had #56 Paul Hamilton lead early until #57 Jesse Fischer pulled up alongside him on lap five, Hamilton then regained the lead and seemed to be heading for a win. Fast-timer #88 Nick Oxborough from Lakeville (MN) started 8th and finally caught sight of the leader during this cautionless race with two to go, Oxborough dove to the bottom coming to the white flag and edged past Hamilton on the last lap to win in dramatic fashion by just 0.172 seconds. It was the third win of the season for Oxborough at ELKO, Hamilton finished second, Jesse Fischer was third, #83 Julie Jorgenson fourth and #08 Mike Stoer fifth of the 12 cars entered.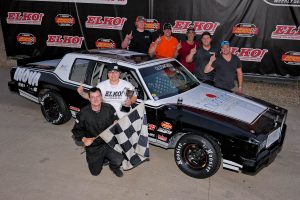 The second Power Stock feature had #13 Matt Frye from Bloomington (MN) starting on the outside pole position. Frye took over the top spot right away and never let it go, Frye got a big lead and the rest of the field could not catch him. Frye ended up winning by 0.903 seconds, it was his first win in nearly four years at ELKO. The drama of the race was for second place as #83 Julie Jorgenson held off a hard charging #88 Nick Oxborough for second place, Oxborough was third followed by #57 Jesse Fischer fourth and #56 Paul Hamilton fifth.
Nick Oxborough now leads Julie Jorgenson by 50 and Matt Frye by 52 points in the race for the Power Stock Championship at Elko Speedway.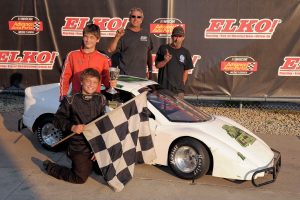 The INEX Bandoleros raced for the first time in 2021 at ELKO on Saturday, Bandoleros are 30 horsepower lawn mower engine driven cars raced by kids aged 8-14. In the first 12 lap feature #18 Leighton Rose took the lead until #56 Clayton Dorner grabbed the top spot on lap two. After a caution on lap 5 defending Champion #12 Ayrton Brockhouse from Shakopee (MN) shot to the front and took the lead, he won by an impressive 4.719 seconds. Clayton Dorner was second, Leighton Rose third, #07 Jackson Kottschade fourth and #000 Colton Roe Pershall fifth.
The second Bandoleros race had #13 Ayden Brockhouse taking the early lead until a caution at lap four slowed the field. After the restart #12 Ayrton Brockhouse from Shakopee (MN) passed his brother for the lead, Ayrton then held back a hard charging #10 Danny Mann to take the win by 0.362 seconds at the finish line, it was his second win in as many races at ELKO. Danny Mann was second, Ayden Brockhouse third, #56 Clayton Dorner fourth #18 Leighton Rose fifth of the 9 cars entered.
*All results and points are unofficial
Next at Elko Speedway is a NASCAR race night with double features on Saturday July 31st, gates open at 5pm, action just before 6pm. Get more information at ElkoSpeedway.com, follow Elko Speedway on social media or download the free ELKO racing app.
Elko Speedway is a 3/8th mile NASCAR sanctioned asphalt oval race track with stadium seating located 30 minutes South of the Twin Cities in Elko-New Market (MN).