August 21, 2021 – Elko, MN
By Jason D Searcy
An action packed Eve of Destruction highlighted by a legendary Monster Truck driver, an American Ninja Warrior Champion and 130 consecutive laps of green flag racing took place at Elko Speedway on Saturday night.
The Late Model division at ELKO sponsored by The Car Lot in New Prague had an all-star field of 24 competitors including two of the top 4 drivers in National Advance Auto Parts NASCAR Hometracks points, Jacob Goede in 2nd and Billy Mohn in 4th, also the USAC dirt Midgets National point leader Buddy Kofoid.
Billy Mohn #8 from Lakeville (MN) took the lead in the first of two 25 laps Late Model features, Mohn shot out front and never gave up the lead in this cautionless race, he won by 0.313 seconds, it was his fourth win of the season at Elko Speedway. Steve Anderson Jr #50 finished a strong second, #54 Dylan Moore was third, fast-qualifier #72 Jacob Goede started 10th and finished fourth and #81 Bryan Syer-Keske was fifth. Second in points #52 Chad Walen finished sixth and USAC dirt Midgets National point leader Buddy Koifoid #11 in his first season racing on asphalt was seventh.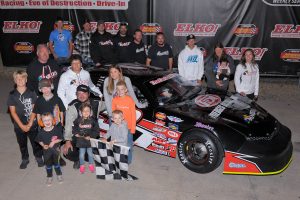 The second 25 lap Late Model feature had 4-time ELKO Champion #3 Chris Marek from Lakeville (MN) take the early lead until #21 Adam Bendzick pulled up side by side as they battled for the top spot on lap 10, they raced hard for numerous laps but Marek retained the lead. Seven time ELKO Champion Jacob Goede #72 started the race 7th, he worked his way up to challenge for the lead with about 5 laps remaining, he drove inside of Marek and they raced wheel to wheel inches apart. Goede pushed his car to the edge and slipped up coming to the white flag dropping back a couple car lengths. Marek held strong and won by 0.212 seconds, it was his second win of the season at Elko Speedway. Goede finished second, Bendzick was third, #6 Owin Giles fourth and #54 Dylan Moore fifth of the 24 cars entered. Chad Walen #52 was sixth and #11 Buddy Koifoid was seventh, first feature winner #8 Billy Mohn finished 13th.
Jacob Goede now has a 98 point lead over Chad Walen in the race for the 2021 Late Model Championship at Elko Speedway.
The Great North Legends motorcycle motor powered race cars raced two 20 lap features Saturday night at ELKO, the first feature had #9 Blake Haynes take the top spot early until #03 Keith Paulsrud grabbed the lead on lap five. Fast qualifier #47 Austin Jahr from Farmington (MN) started the race 9th and weaved his way through the field and eventually took the lead on lap 8, Jahr then held back the pack and won by 0.776 seconds, it was his fourth win of the season at Elko Speedway. Fifteen year old Colin Stocker #8 finished second, #71 Jon Lemke was third, #87 Robby Carter fourth and #03 Keith Paulsrud fifth of the 14 cars entered.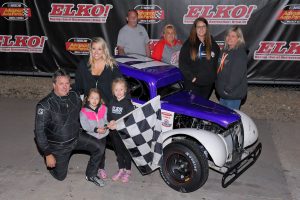 The second Legends feature had Blake Haynes #9 lead the opening lap and #19 Mike Hanson took over the lead on lap two. Jon Lemke #71 from Savage (MN) drove up from his 8th starting position to grab the top spot on lap 13, he then had the difficult task of holding back the pack of these evenly matched cars, he did a masterful job twording every advancement, eventually winning by 0.423 seconds, it was his third win of the season at ELKO. Cars were three-wide the last couple laps and also crossing the finish line, #87 Robby Carter was second, #47 Austin Jahr third and #8 Colin Stocker was fourth, they all finished within 0.14 seconds of each other at the stripe, Mike Hanson rounded out the Top 5 during this cautionless race.
Robby Carter now has a 39 point lead over Jon Lemke in the battle for the 2021 Legends point Championship at ELKO.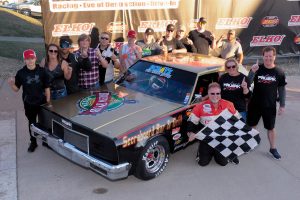 The Pepsi Power Stocks raced two 20 laps features during Eve of Destruction at Elko Speedway the first race had veteran driver #66 Joe Prusak from Clayton (WI) take over the top spot early and he never gave it up, they raced without a caution and Prusak won by 0.768 seconds, it was the first win of the season for Prusak and added to his career win total that is in excess of 200 wins. Fast qualifier #88 Nick Oxborough started the race 8th and worked his way up to finish second, #08 Mike Stoer was third, #83 Julie Jorgenson fourth and #56 Paul Hamilton fifth of the 10 cars entered.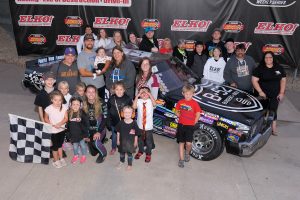 The second Power Stock feature had rookie driver #3 Jimmie Jorgenson lead early until he was challenged by his older sister #83 Julie Jorgenson from Lakeville (MN) who shot up to the high side and passed him on lap 5 of 20. Julie Jorgenson then outran the competition and won by an impressive 5.35 seconds, it was her 3rd win of the season at Elko Speedway. Jimmie Jorgenson was second, #66 Joe Prusak third, #88 Nick Oxborough had a tough time getting through traffic and finished fourth and #8 Eric Montour fifth.
Nick Oxborough now has a 45 point lead over Julie Jorgenson in the race for the 2021 Power Stock point Championship at ELKO.
All results and points are unofficial
The huge Eve of Destruction crowd was entertained by veteran Monster Truck driver Rod Schmidt from Iowa who drove Grave Digger for over a decade, he debuted his new truck named Thrill Billy also Litchfield Minnesota driver Josh Bumgartner drove his truck named Mechanical Mischief.
The Spectator Drag race winner was Cole Lundeen in his highly modified BMW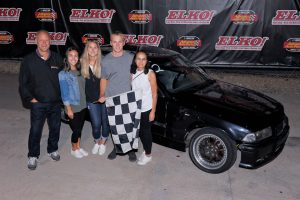 On the concourse three action athletes thrilled the crowd with their high flying trampoline act. The star of the show was 2012 American Ninja Warrior Champion Brent Steffensen.
The finale of the night was lots of bus crashing and banging with the figure 8 bus races.
Up next at ELKO is a tribute to both young and old with kids and community night on Saturday August 28th. Free bus rides for kids, Monster Trucks, racing, touching tributes, figure 8 bus racing and much more. Gates open at 4:30pm, action just after 5pm. Get more information at ElkoSpeedway.com, follow Elko Speedway on social media or download our free app by searching ELKO Racing.
Elko Speedway is a NASCAR Sanctioned high banked 3/8th asphalt racetrack with stadium seating located 30 minutes South of the Twin Cities in Elko-New Market MN.