By Jason D Searcy
July 3, 2021 – Elko, MN
A full house of race fans were in attendance to celebrate the Independence day holiday with an Eve of Destruction event on Saturday July 3rd at Elko Speedway.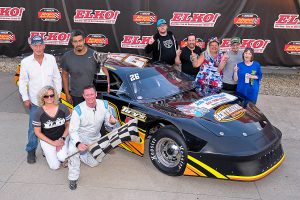 In the first of the twin 25 lap NASCAR Late Model features sponsored by The Car Lot of New Prague, pole sitter #21 Adam Bendzick took the early lead until a caution caused the full 24 car field to slow and reset on lap 7. Lawrence Berthiaume #26 of New Hope (MN) then grabbed the top spot on lap 9, Berthiaume later had to avoid a spinning car with 5 laps to go and after the restart he held back the furious advances of #8 Billy Mohn to win by just 0.148 seconds at the finish line. Mohn finished second, Adam Bendzick was third, #42 Ryan Kamish fourth and #19 Michael Haggar fifth. After starting at the back of the pack because of his new tires, fast-timer #6 Owin Giles made his way up to 10th.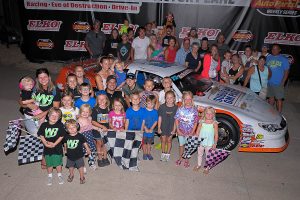 In the second Late Model feature 3-time Big 8 division Champion #3 Chris Marek took the lead off the start until 7-time ELKO Champion #72 Jacob Goede from Carver (MN) grabbed the lead with a bold move on the high side coming to lap two. There were two late race cautions where Marek would get side by side but Goede was able to hold him off by 0.482 seconds at the finish line to win for the second time at ELKO in 2021. Chris Marek was second, #52 Chad Walen third, #42 Ryan Kamish fourth and #21 Adam Bendzick fifth of the 23 cars that started the race. Jacob Goede is a former NASCAR Hometracks National Champion and he currently is in second place in the NASCAR Advance Auto Parts weekly series National standings.
The first 20 lap Genz-Ryan Thunder car feature had #14 Tony Holm from Prior Lake (MN) led every lap of this cautionless race but it was not easy, he had a big lead early but then he raced side by side with #3 Conrad Jorgenson who charged up through the field and caught Holm the last few laps. Holm held the top line strong and won a drag race to the finish stripe with one of the closest margins in recent history, he won by just 0.007 seconds for his first win since his days racing in the Super Truck division over 15 years ago. Conrad Jorgenson finished second, #9 Adam Wiebusch was third followed by #25 Eric Campbell and fast qualifier #07 Dillon Sellner. Julie Jorgenson in her first ever Thunder Car start finished 9th.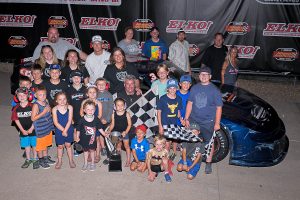 The second Thunder Car feature event had #25 Eric Campbell jump out to a lead off the green flag, then he and #3 Conrad Jorgenson from Lakeville (MN) raced furiously side by side numerous laps with Jorgenson taking the lead on lap 8 of 20. Campbell stayed close but Jorgenson took the win, it was his third win of the four Thunder Car features so far in the 2021 season at Elko Speedway, he has over 150 wins in his career. Eric Campbell was second, #07 Dillon Sellner third, #9 Edam Wiebusch fourth and #8 Taylor Goldman was fifth of the 10 cars entered.
The Great North Legends division had many travelers and first-time racers to Elko Speedway with 25 cars entered. The first Qualifying feature had the 1999 ELKO Super Truck champion #8 Mark Anderson from Arden Hills (MN) getting past #22 Mitch Peterson for the win. The second Qualifying feature had #2 Rob Thurston from Oliva (MN) taking the win over many time Bando winner #901 Alex Hartwig who just moved up into the Legends division. The fast dash winner was #71 Jon Lemke from Savage (MN) edging #100 Tristan Swanson.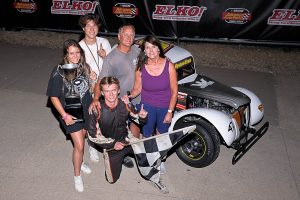 The 20 Lap Great North Legends main event was full of crashes, cautions, a red flag and a real battle of attrition with the large field of cars. Colin Stocker #8 had the early lead until fast-qualifier #47 Austin Jahr from Farmington took the lead on lap 3 and held on through the numerous cautions and restarts holding back the numerous challenges brought forth by second place finisher #100 Tristan Swanson, #87 Robby Carter was third.
*results are unofficial at this time
The huge Eve of Destruction crowd was also entertained by Spectator Drag winner Mark Chlan from Lonsdale who drove his 1992 Nissan 240SX to victory lane after numerous intense head to head matchups. Some of the top cars in the region performed a competition of tandem-style drifting including Formula Drift Pro Spec driver Austin Matta from Shakopee (MN) proudly displaying the American Flag. Kids and parents alike enjoyed the BMX show and petting zoo near the concourse,
Josh Baumgartner from Litchfield (MN) put on a car crunching show with his Monster Truck Mechanical Mischief and Kayla Erickson from Upsala (MN) delighted the crowd by melting a pickup with her Jet Truck named Magdatude.
Many current and former Elko Speedway drivers raced the Figure 8 School busses at the end of the night followed by an awesome display of fireworks to wrap up Eve of Destruction.
Elko Speedway is a NASCAR sanctioned 3/8th mile high banked asphalt oval racetrack located 30 minutes South of the Twin Cities in Elko-New Market MN.
Up next at Elko Speedway is the ARCA Menards series, a NASCAR touring division race, the event will be Saturday July 10th. Gates open at 2pm, local qualifying at 4:30pm, General Tire pole qualifying at 5:30pm Elko Speedway Powerstocks, Thunder Car and Late Model features begin at 6pm, On-track autograph session at 7:45pm and Green flag of the Menards 250 will be just after 9pm. Get discounted tickets at participating Menards locations, tickets available online at ElkoSpeeway.com or at the door.