Nick Panitzke's main focus remains on his ASA Midwest Tour schedule, but as the Governor's Cup 125 fast approaches at Elko Speedway, Panitzke is making some starts in the NASCAR Whelen All American Series. On Saturday July 28, 2012 he gave a glimpse of what could be coming as he set fast time (13.911 seconds/97.046 mph), topped his Semi Feature and then held off Nick Barstad to earn a "clean sweep" in the NASCAR Super Late Models.
Panitzke was celebrating his birthday with numerous family and friends on hand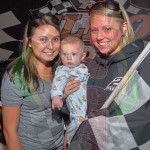 to join him, but he had a full plate of racing before any celebration would start and as the green flew over the 22 car grid it was Billy Mohn charging by Barstad to take the early lead with Chad Walen, Donny Reuvers, Joel Theisen and Panitzke in tow. By lap five, Mohn's advantage was a slim half car length over Barstad as Panitzke rolled under Theisen to join the top five. As Mohn and Barstad pushed each other to the limit lap after lap, Reuvers pulled even with Walen on lap 10 before taking third on lap 11 with Panitzke following suit on lap 12. With the action remaining caution free, the field reached the midpoint of the 40 lapper with a top five of Mohn, Barstad, Reuvers, Panitzke and Walen edging away from the field.
By lap 22, Barstad got a big run off the bottom of turn two to take the lead only to see Mohn return the favor one lap later before Barstad took the point again on lap 24, with Panitzke charging by Reuvers for third and then Mohn for second before the caution flew on lap 27 as Mike Hansen spun in turn four. On the restart, Panitzke got a great run to edge by Barstad for the lead and the fans were treated to more side by side action before the second and final caution flew on lap 34 as Hansen and Steve Anderson locked horns, spinning off turn one to set up a final restart. When the final green flew, Panitzke charged hard into turn one, clearing Barstad to take the lead enroute to the win, finishing off a "clean sweep" with Barstad second, Adam Royle finishing strong in third, Reuvers fourth and Mohn earning a top five.
The Big 8's saw Rookie of the Year contender Mitch Weiss battle with Mike Pederson for the early lead, settling in to the point on lap four as Lawrence Berthiaume and Jon Lemke dropped Pederson to fourth on lap five. As Weiss kept a steady line leading his first laps of the season, Berthiaume came calling on lap nine pulling even with the leader, setting up a five lap battle for the point which Berthiaume finally claimed on lap 15, with Lemke following suit. With the action remaining caution free following some wild, early night Heat Race action, it was now Berthiaume trying to keep Lemke at bay as Jake Ryan rolled by Weiss for third on lap 18 to join in the hunt. Over the next four laps, Lemke closed on Berthiaume, finally using a big run off of turn two to take the lead on lap 22, leading the final three laps for the win, with Berthiaume second, Ryan third, Weiss fourth earning his first career top five and Travis Stanley fifth. Weiss' efforts of first career laps lead and first career top five earned him the MONSTER Energy Performance of the Week.
The Thunder Cars had a special 40 lap headliner as part of the EXTREME POWDER COATING/BROTHERS JORGENSON RACING Summer Thunder Series and 21 drivers took the green with Dillon Sellner and Jeremy Wolff battling for early control, with Wolff taking the lead on lap three, with Brent Kane charging around Sellner for second on lap five and closing quickly on the leader. By lap seven, Wolff and Kane had pulled away from Sellner and Jacob Goede by six car lengths before the caution flew on lap 10, when Kane made contact with Wolff sending the leaders spinning to force a restart. As the field attempted to return to the green, caution flew immediately as Michael Gilomen tagged Sellner exiting turn four to force a second restart and when the green flew it was Goede powering his 1965 Chevy to the lead, quickly pulling away by seven car lengths as Greg Borchardt and Devin Schmidt battled for second, with Borchardt laying claim to the position with Ted Reuvers also able to bypass Schmidt.
The action remained fast and furious until lap 31 when Ben Boyum and Schmidt collided in turn four racing for position to bring out a final caution. On the last restart, Goede charged out to the lead with Reuvers bypassing Borchardt for second, but it would be Goede rolling to the win, with Reuvers second, Borchardt third, Dustin Mann fourth and Gilomen charging from the trunk for fifth.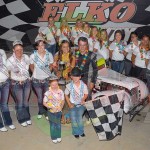 In the Legends, Rookie contender Teddy Hough charged to his first lead of the year over Greg Erhardt and paced the first three laps before Erhardt got loose exiting turn two, sending Trevor Bradley and Kyle Hansen to second and third. As Hough continued to lead, Bradley closed to the leaders bumper on lap five before ducking under Hough for the lead on lap six with Hansen also moving by before a caution on lap nine would slow the action as Brandon Elmer and Alex Akey spun entering turn one. On the restart,  the caution was quick to fly again as Tim Brockhouse and Benny Van Cleve made contact exiting turn two, forcing a quick reline and a second restart and as the green flew, Derek Lemke made a bold charge under Bradley as Hansen went high and suddenly Bradley found himself in third with Lemke the new leader. Despite two more cautions for solo spins on lap 11 and 14, Lemke was strong enough to keep Hansen at bay for the win, with Bradley third, Hough earning his first career top five with a fourth place and Michael Ostdiek fifth.
Topping off the NASCAR Whelen All American Series action, the Power Stocks saw John Lebens and Tom Doten roll by pole sitter Dan Bohnsack as the green flew only to have the action stall on lap three as Taylor Goldman gave Bohnsack the "chrome horn" sending him spinning wildly to force a restart. Prior to the green flying, another "casualty" turned out to be Paul Hamilton who hit the "drivers choice cone" and was sent to the trunk. When the green flew resuming the action, Lebens and Doten charged into turn one, with Lebens able to take the lead with a smooth drive off of turn two, with Josiah King, David Goldman, Larry Scott and Bryan Wrolstad in the lead pack. As Lebens began to separate from Doten, Wrolstad worked by Scott for fifth on lap 13, before a resurgent Hamilton returned to the top five one lap later sliding by Wrolstad. With the action remaining caution free, it was Lebens rolling to the checkers, with Doten, King, Goldman and Hamilton in the top five.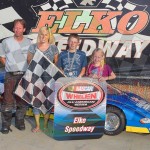 Topping off the action were the Bandelero's and for the second time in recent action, it was one particular driver dominating the action and on this sunny Saturday, it was Grant "the Real Deal" Brown earning a "clean sweep", topping the Heat and Feature.
The action resumes at Elko Speedway on Saturday August 4, 2012 with the popular EVE OF DESTRUCTION RAW featuring a combination of the BEST NASCAR Short Track Racing along with Verticle Mischief Freestyle Sportbikes, Spectator Drags, School Bus races and the always popular BURNOUT CONTEST and MORE! For directions, event or general questions, contact the Racing Office at (952) 461-7223