Three divisions of "weekly warriors" joined the "Stars and Cars" of the ASA Midwest Tour for the Governors Cup 125 program Saturday August 21, 2012 at Elko Speedway and two first time winners visited victory lane, while Scott King became a three time winner.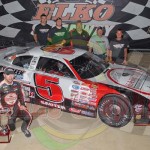 While the enthusiastic crowd saw great action in the 125 lap main event in which Travis Sauter reeled in Skylar Holzhausen and then Nate Haseleu enroute to earning the checkers, the Elko Speedway Thunder Cars also thrilled as Scott King roared around polesitter Robert Kluver III to grab the early lead. As King quickly established a five car length cushion, Steve Anderson reeled in Kluver on lap three and charged by on the outside to take over second before Michael Gilomen followed suit on lap four. As King and Anderson began to distance themselves from Gilomen and Kluver, Dick Partington and Greg Borchardt came charging into the top six and worked under Kluver for fourth and fifth as Dustin Mann and Dillon Sellner also joined the battle.
With action continuing to be caution free, the battles for position took a backseat on lap 17 of 25 as Anderson moved to the outside groove and quickly closed on King, but this night belonged to King who earned his 3rd feature win of 2012, with Anderson, Gilomen, Partington and Sellner in the top five.
In the Great North Legends, Dylan Warner and Greg Erhardt chased each other high and low for the opening five laps in pursuit of the lead which Erhardt claimed on lap six, with James Wenzel charging by Warner for second. As the action remained fast and furious, Erhardt established a three car length advantage with Wenzel battling to keep Warner at bay. As the field neared the midpoint of the 20 lapper, Wenzel appeared to get loose entering turn two and as he tried to regain control, contact between three cars sent the field scrambling with Wenzel retiring for the night with sever suspension damage.
As the green flew to resume the action, Erhardt again bolted to the lead with Benny Van Cleve quickly closing on the leader, catching and passing Erhardt on lap 13 before a second caution flew on lap 15 as Brandon Elmer and Michael Ostdiek collided exiting turn four, sending Elmer to the pits with major damage. On the final restart, Van Cleve held off the determined Tim Brockhouse to earn his first win of the season, with Brockhouse, Warner, Kyle Hansen and Trevor Bradley earning top fives.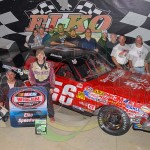 Topping off the action were the Power Stocks and an early "family feud" happened when David "the Legend" Goldman edged by his daughter Taylor for the early lead, but determination can be as powerful as horsepower and in this case "the daughter" taught "the dad" a lesson as she powered by for the lead on lap three, with Josiah King moving to second. As "Rollergirl" continued to pace the action, King got loose exiting turn two on lap four, with Rob Schnickels, Tom Doten and John Lebens marching by. As the action remained caution free, Goldman continued to keep a smooth and steady line as Doten bypassed Schnickels for second on lap 15, but in the end it proved to be "ladies night" as Taylor Goldman earned the popular win with Doten, Lebens, Schnickels and Paul Hamilton earning top fives.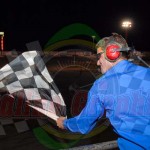 The action at Elko Speedway resumes on Saturday August 25, 2012 as Dicks Sanitation presents the EVE of DESTRUCTION RAW featuring NASCAR Whelen All American Series Racing action along with a Dukes Jump, Spectator Drags, School Bus Races, a Monster Truck, Guilty by Association, the first ever Garbage Hauler Race and the return of Doug Rose and the GREEN MAMBA JET CAR! Gates will open at 5pm with green flag action set for 7pm. For directions, Suite availability or general questions call the Racing Office at (952) 461-7223 or visit www.elkospeedway.com.