Elko, MN – June 1, 2013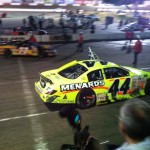 "This is racing the way it should be," said Frank Kimmel after winning the Akona 250 at Elko Speedway. "This is such a cool place to race, a lot of fun beating and banging but not all the crashes and wrecks."
Kimmel from Clarksville (IN) finished just 1.358 seconds ahead of Tom Hessert from Cherry Hill (NJ) who started fifth row outside and moved his way to the front of the pack. "The car was good all night," said Hessert "I thought we were a little better than him at the end but, we just ran out of time."
Former Elko Speedway Thunder Car champion Jonathan Eilen from Hampton (MN) thrilled the hometown crowd with a strong third place finish. "The more laps we were getting, the car was coming to us," said Eilen "we just kept making adjustments and at the end the thing was coming to life."
Racing Legend Ken Schrader from Fenton (MO) was the fast qualifier with a time of 14.449 seconds. He lead for 75 laps of the race but faded back to fifth place at the finish.
The 250 lap ARCA race presented by Menards had five different leaders and saw eight cautions with no major wrecks, it was run in 1 hour and 17 minutes.
Nine time ARCA Champion Frank Kimmel won for the 78th time in his ARCA career putting him just one win short of the all time ARCA record set by Iggy Katona.
Next up at Elko Speedway the NASCAR Whelen All American series resumes with racing in the Super Late Model, Big 8, Thunder Car, Great North Legends and Power Stock divisons. Including free carnival rides for all in attendance on Saturday June 8th, racing begins at 7pm.
Get more information at www.elkospeedway.com or call (952) 461-7223