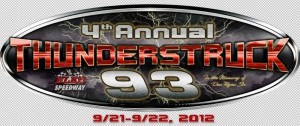 See The Best Cars, Drivers and Crews in the Upper Midwest Competing In 5 Premier Divisions Featuring ASA Midwest Tour, Big 8 All Stars, Thunder Cars/Hobby Stocks, Mid-Am Stockcars and The Midwest Super Trucks!
Qualifying Friday
Practice: 3:00 – 5:00
Time Trials All Divisions: 6:00
Racing Starts: 7:00
250 "Make or Break" Laps!
25 Lap Qualifying Races for ASA Super Late Models,
 Big 8 All Starts, Mid-Am Stockcars, Thunder Car/Hobby Stocks and Super Trucks
 Free Friday Night Live Music by Rocket Club!
Championship Saturday
Practice: 3:00 – 4:00
Race Car Display/Autographs: 5:30 – 6:45
Racing Starts: 7:00
5 Big Feature Events!
50 Lap Super Truck Feature
50 Lap Mid-Am Stockcar Feature
50 Lap 10th Annual Thunder/Hobby Stocks Car National
58 Lap Big 8 All Star Race
125 Lap ASA "Thunderstruck 93" Event
 Pink Flamingo Party with Karaoke Dave after Races
MID-AMERICAN GETS THUNDERSTRUCK
Fort Atkinson, WI (September 20, 2012) – The Mid-American Stock Car Series migrates north Friday and Saturday, September 21st and 22nd to join in Elko Speedway's 4th Annual Thunderstruck 93 fall racing festivities. It's been 7 years since Mid-Am has visited the premier Twin Cities area asphalt short track. "This is one of the root tracks that welcomed the Mid-Am cars and drivers to their facility 20 years ago when Mid-Am was in it's infancy," states Mid-American owner, Doug Strasburg. "I'm excited to be able to bring Mid-Am back."
 The overall winner this weekend will have the possibility of taking home $1,000 thanks in part to Mid-Am racer Adam Bendzick and his business, Pro Service Automotive Repair inPrior Lake,MNand one of Bendzick's sponsors, Creeks Bend Golf Course in New Prague, MN. Bendzick calls Elko his home track and experience on the track may make him a favorite, but he will have his hands full with his very capable Series rivals.
 Mid-American brings with them one of the most competitive point races that they have experienced in recent years. Point leader, Jeremy Spoonmore ofSomonauk,ILholds an ever so slim nine point lead over 2010 Champion, Lyle Nowak ofWausau,WI. Both drivers have feature wins behind them this season, Spoonmore with two, Nowak with one. Both drivers have similar smooth and deliberate driving styles and seem to share the championship mentality of  "You gotta' finish before you can win." 
Ryan Farrell ofEast Troy,WIcame into the series this season as a Rookie of the Year contender. Farrell made a statement at the season opener inRockfordby posting quick time and winning the feature event coming away leading the point race. He makes the trek to Elko in third position, 68 points back. Holding down comfortable 240 point lead over his nearest Rookie, Frank Slabenak, Jr. ofPalos Park,IL, Farrell remains a viable contender for the season championship.
Another driver that has gained momentum this season and methodically climbing the point ladder is veteran, Jake Finney of Sycamore, IL. Finney enjoys the forth point position, within shooting distance of the crown.
 A relative newcomer to the Mid-American Series, Brad Keith ofWest Bend,WIis fifth in points. Brad has logged a quick time, three top fives and five top tens keeping numerically in the race.
 Multi Mid-Am Champion, James Swan ofGenoaCityrounds out the top six. Although Swan has more quick times and feature wins than those ahead of him, missing two events has put him in catch up gear. Swan is also numerically in the race but will not be able to skip a beat if he has any visions receiving top billing Mid-Americans Awards Banquet in January.
 Join the fun and excitement with Mid-American at Elko Speedway this weekend. Check out weekend details on https://www.elkospeedway.com/. Follow Mid-American on https://www.midamerican racing.com/. Information about Pro Service Automotive Repair in Prior Lake can be found on https://www.proserviceauto.com/ and Creeks Bend Golf Course on https://www.creeksbendgolfcourse.com/.