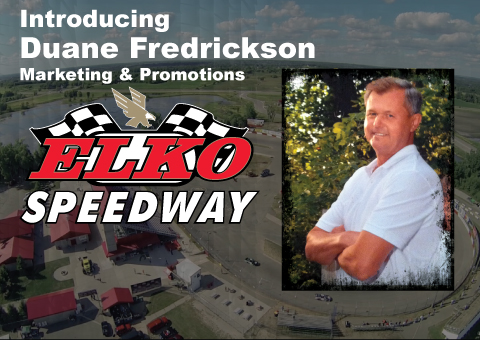 Elko Speedway today announced the hiring of Duane H. Fredrickson in the position of Marketing and Promotions. Duane will be working to assist companies large and small in maximizing their market presence through Elko Speedway. He will also be responsible for securing partnerships with corporations throughout the area to host their hospitality events at the track.
Duane has raced at Elko and other area tracks during the mid-80's. In 1991, when Duane's brother Bob purchased Elko Speedway, Duane was brought on as Director of Marketing. "We really had a good time. Bob and I did all sorts of things at the track, whatever was needed. You might be grading the driveway in the morning, hop on a lawn mower for a couple of hours, change clothes and go to a meeting at the Valvoline regional headquarters later in the day."
However, it's the present that really excites Duane. "I am thrilled to be working with companies in the area at Elko Speedway. This is by far the premier racing facility in the Midwest. Everywhere you look, it says first class. Tom Ryan has placed a lot of faith in me and Beth Tatge has helped me so much. This is going to be great! There is no doubt a lot of work to be done but I've never been scared of that."
Duane lives in rural Northfield with his wife Anne and their four children, Emilia (14), Eric (12), Ellie (9) and Kathryn (7). The best way to reach Duane is (612) 616-8133 or email DuaneF@ElkoSpeedway.com or just take the time to say Hi at any of the Elko Speedway events. We wish him the best of luck.