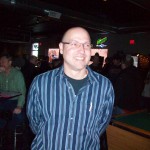 Jason Searcy has nearly 20 years of announcing experience, mostly at the I-94 Raceway Tracks in Sauk Centre and Fergus Falls, Minnesota where he also competed in the 4 Cylinder and Street Stock Divisions from 1995 to 2000.  Jason co-hosts a weekly motorsports show on KRWC Radio in Buffalo, Minnesota which is also broadcast live on the internet and is also contributing writer for the Midwest Racing Connection.  Jason's knowledge and dedication to the sport of racing on all levels is a great addition to the Elko Speedway team.
Pete Hackett has been in the entertainment business for over 25 years and currently co-owns an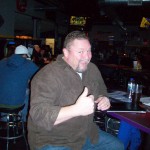 entertainment company where he is known as largest game show host in Minnesota…literally.  Pete is quite the comedian.  You can catch Pete outside the Metrodome in the Dunk Tank on the Plaza every Minnesota Vikings home game where he heckles the crowd as the "Obnoxious Opposing Fan".  Pete has been coming to Elko Speedway since he was a kid, and even competed in the Hornet Division at Elko for a couple of years in the late 90's.  Pete is honored and excited to become a part of the Elko family.
Elko Speedway is proud to add Jason Searcy and Pete Hackett who are sure to add to the experience for fans this racing season.  The season begins on Friday & Saturday, April 26th & 27th with the Elko Modified Nationals.  Gates open at 5:00 p.m, racing starts at 7:00 p.m.