Elko Speedway is happy to announce that we have acquired Raceway Parks "Track Cars." These Track Cars are available for immediate use at Elko Speedway. We will run an exhibition race to welcome this new fleet of cars at this upcoming Eve of Destruction on September 7, 2013.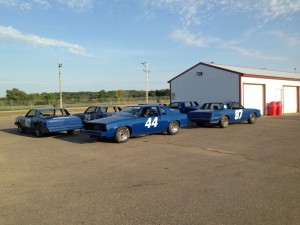 Elko Speedway Track Car Rentals
At Elko Speedway we have a fleet of identical Track Cars. These race cars are available to rent for use on Elko Speedway's high-banked 3/8 mile paved oval race track. Each of these Track Cars is comparable to the NASCAR Powerstock division that races every Saturday night at Elko Speedway. Book your NASCAR adventure at the track today! Bring your friends, clients or co-workers and experience the thrill of being behind the wheel. Don't pass up on this unique opportunity to have your own
race at the Midwest's center for speed, Elko Speedway!
Hold your next family gathering, corporate event, bachelor, bachelorette or
birthday party at Elko Speedway and enjoy what racing has to offer.
Eat dinner, listen to music and have drinks in Champions Event Centre,
and make it a night to remember!
Prices Start @ $150 Per Car for Two 5 Lap Races
(Group Discounts Available)
For more Information and Reservations contact Denise at:
(952) 461-7223
or
Denises@elkospeedway.com