Prior Lake's Nick Barstad arrived at Elko Speedway in 2009 joining the Big 8 ranks and admittedly, took his lumps. Jump forward to 2011 and Barstad moved up to the NASCAR Super Late Models and again found the going "a challenge", but determination led to the 2011 Minnesota State NASCAR Rookie of the Year title. His journey took a big step forward Saturday June 30th as Barstad set Fast Time (13.991 seconds/96.491 mph) and finished second in his Semi Feature, before leading the final 26 laps to earn his first career NASCAR Super Late Model Feature win.
The 40 lap headliner saw the front row tandem of Paul Paine and Billy Mohn battle for the early lead, with Paine taking the point on lap three with Chad Walen sliding under Mohn for second. As Walen closed on Paine, contact sent the leaders spinning wildly in turn three to bring out a caution on lap eight. On the restart, Matt Goede and Jason Schneider charged into turn one, with Goede getting a big run off turn two taking the lead as Barstad moved around Mohn for third on lap 10. With  Goede looking to pull away, Barstad continued to claw his way forward bypassing Schneider for second on lap 11 before leading Schneider under Goede on lap 14 for the top two positions.
Once in the lead, Barstad kept a steady pace with Schneider, Goede, Adam Royle, Bryan Roach and Donny Reuvers battling second through sixth before a second caution flew on lap 24 as Mike Hansen and Matt Ostdiek collected each other in turn four. On the final restart, Barstad held off a determined Schneider to roll to the lead and eventual win, with Schneider, Goede, Royle and Reuvers earning top fives. With the win, Barstad earned the MONSTER Energy Performance of the week.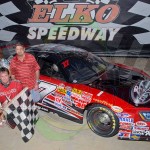 In the Big 8's Nick Beaver and Darren Wolke put on a great side by side battle through the opening 14 laps, pushing each other high and low for the lead as Doug Brown, Jon Lemke, Chris Marek and Michael Beamish charged to the top six before the caution flew on lap 15 as Mike Pederson spun in turn two. On the restart, the lead tandem went back to their side by side duel, with Beaver finally edging away on lap 17 before a second caution flew on lap 18 when Marek charged deep into turn three, losing the handle on his ride collecting Brown and Wolke in the melee. On the second restart,  Beaver led the field to the green with Lemke now pressuring on the outside and as the tandem roared off turn two on lap 21, Lemke used a little veteran savvy to power around Beaver for the lead before a third and final caution flew on lap 22 as Pederson lost control in turn four. With a single file restart in place for three or more cautions, Lemke was able to keep the field at bay as he earned the victory, with Jake Ryan closing quickly to edge Beaver for second, with Lawrence Berthiaume and Travis Stanley earning top fives.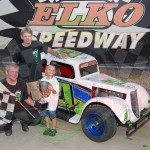 The Great North Legends were all breathing  bit of a "sigh of relief" as Tyler Sjoman, who had won five straight events was in North Carolina for a Legends Special. With the field wide open, Michael Ostdiek bolted around Ryan Wolke on lap two for the lead, which he would hold until lap six when Pat Zandstra came calling. Zandstra was on a bit of a roll, coming off two recent feature wins in area Legends competition and used the momentum to drive around Ostdiek for the lead and once in the lead, he was able to dictate the action in the caution free event to earn the win, with Derke Lemke closing fast to edge Ostdiek, with Kyle Hansen and Dylan Warner in the top five.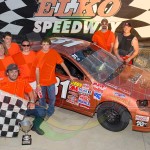 Topping off the NASCAR Whelen All American Series action were the Mini Stocks and Lakeville's John VanDen Heuvel was the class of the field as he led "wire to wire" in holding off Aaron Hopkins to earn the win, with Justin Schelitzke, Blake Dorweiler and Norm Grabinger earning top fives.
With a large and vocal holiday crowd on hand, the racing action was joined by memorable performances from GALAXY GIRL and the GHOST RYDER Monster Truck before Fireworks wrapped up a busy night of action.
Elko Speedway now prepares for the July 7, 2012 EVE of DESTRUCTION RAW featuring a STEEL WALL BUS CRASH, GUILTY BY ASSOCIATION Freestyle Motorcycles, STINGER Monster Truck, Flag Pole Race, Spectator Drags, Five divisions of NASCAR Racing plus FREE FIREWORKS. For event times, directions or ticket information, contact the Racing Office at (952) 461-7223.
Race Results and YTD Points: