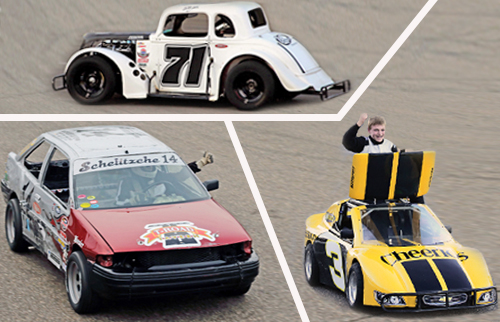 By Jason D Searcy
September 29, 2016 – Elko, MN
The final night of racing at Elko Speedway in 2016 is Saturday (10/1) for MN Lottery Eve of Destruction sponsored by Leo's South.
The night will be full of destruction with Doug Rose and the Green Mamba making another car melting appearance at ELKO, also the much anticipated Trailer Race will thrill the crowd.  Figure 8 bus racing, Spectator Drags, the Burnout Contest, the Drifters exhibition and stunts from Justin Sayne Motorsports will also take place on the season Finale.
Racing will also take center stage as a Champion will be crowned in the Great North Legends, the Hornets and the Bandolero divisions.
In the 1250cc motorcycle engine powered Great North Legends class Derek Lemke #71 from Shakopee (MN) has a huge 90 point lead on the rest of the field and since the maximum number of points that can be earned is 72, Derek Lemke has already clinched his third consecutive Championship at Elko Speedway.
Derek grew up watching his father Jon race Late Model touring series events throughout the Midwest and also win two Championships at Elko in 1991 and 2004.
Derek started racing himself in 2011 both in the Great North Legends division, where he has won three straight championships, and the last few years in the premiere MN Corn Growers Super Late Model division, where he won a race in 2014 and finished 11th in points this year at Elko Speedway.
This year Lemke has scored 7 wins in the Great North Legends division, #16 Matt Allen and #4 Brady Fox-Rhode each have three wins with #13 Tim Brockhouse scoring two wins in limited starts and #3 Dirk Henry has one win this year.
Lemke won the National Qualifier event earlier this year at Elko Speedway and plans on racing for a World Title in the INEX Legends Asphalt Championships that will take place next weekend (Oct 7-8) on the East Coast of the United States at Waterford Speedbowl (CT).
The 4cyl Hornets division race is a bit closer as #14 Justin Schelitzche from Lester Prairie (MN) has a 27 point lead on #36 Brandon Olson from Minneapolis (MN).
If Schelitzche can finish ahead of Olson in his heat race, Schelitzche would only have to start the feature event to wrap up his second consecutive Hornets title at Elko Speedway.
Schelitzche has quite the resume when it comes to the 4cyl division.  He has won a total of 6 Championships over the years at numerous MN tracks on both asphalt and dirt: Elko, Raceway Park (Shakopee), Granite City Speedway (Sauk Rapids), and Kandi Raceway (Willmar).
Last year he finished second in the entire Nation in NASCAR Whelen All American Series points in Division V.  He attended the NASCAR Home tracks banquet in Charlotte (NC).
This year has also been exceptional for Schelitzche in his Ford Escort GT race car, his combined stats look like this so far; 73 TOP3 finishes in 77 starts with 21 wins, four of them at ELKO.
Brandon Olson is currently in second place in the points at Elko Speedway in the Hornets division.  Olson grew up watching his uncles Jeff and Joe Moot race at Raceway Park in Shakopee (MN) in the 1990's. 
Olson started racing himself in 2013, winning a heat race at Raceway Park that same year and then coming over to race at ELKO.
Brandon Olson has also raced the entire year in the Pepsi Power Stock division and finished 10th in the final point standings.  He has four wins this year in the Hornets division and is looking for his first Championship at Elko Speedway.
In the Bandolero division #3 Luke Allen from Chanhassen (MN) has a comfortable 52 point lead over #48 Lennon Watkins from Faribault (MN).  Both of these drivers are 13 years old and race 750 lb cars powered by 30 Horsepower Briggs and Stratton lawn mower motors.  Allen has five wins this year and hopes to add his name to the impressive list of Bando's Champions at Elko Speedway including Grant Brown (2012), Jared Duda (2013), Brody Wulf (2014) and Owin Giles (2015).
In addition to the racing and wrecking on the track many other activities will be taking place during the MN Lottery Eve of Destruction sponsored by Leo's South including:  Mechanical Bull rides, Furever Wild animal exhibition and free ATV rides.  Also musical performances by Lost Highway taking place in Champions Event Center at Elko Speedway during intermission and after the races.
The final night at Elko in 2016 will end with a bang with a huge Rock-N-Roll fireworks display.
The gates open at 5pm with racing beginning at 7pm at Elko Speedway located 30 minutes South of Downtown Minneapolis just off of I-35 and County road 2 in Elko (MN).  Elko Speedway is a NASCAR Sanctioned 3/8th mile asphalt oval racetrack with progressive banking and stadium seating.
For more information, go to ElkoSpeedway.com, follow Elko Speedway on social media or download the free ELKO Racing app.