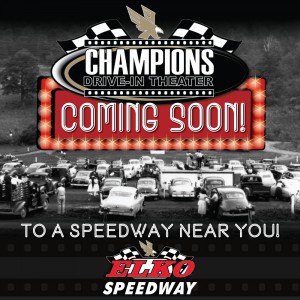 Get ready race fans for a new kind of entertainment at the track. A piece of Americana culture is being reclaimed in Elko this summer.
Slated to open in June of 2014, Champions Drive-In Theater will show first-run, family-friendly films until early September. The movies would be shown on Thursday, Friday and Saturday nights in the spring and fall and every night in the summer. On Saturday nights, the only night the racetrack operates, the films will begin after the final race.
Folks in Elko can look forward to a great summer job and a convenient and memorable experience right in their backyard. The location for the new drive-in theater, just south of the race track (a mile and a half from the freeway), is perfect for movie goers to enjoy a night under the stars.
Unlike the traditional drive-in theater sound, which was piped through a speaker box outside the vehicle, patrons now tune their FM stereo dial to a specific frequency and enjoy sound from their vehicle's stereo speakers.
The new theater will have a digital projector and will use the 116-foot-wide and 46-foot-tall screen that owner, Tom Ryan purchased last year from operators of the Cottage View Drive-in in Cottage Grove. The plans also call for a projection building that Ryan said could be expanded to include restrooms and a concession area. The site is large enough to fit over 700 vehicles.
The Drive-In theater is likely to be an excellent fit for Elko, keeping with the tradition of great family entertainment, and of course automobiles. Stay tuned to our web page and social media accounts for updates regarding this latest development at Elko.
Article in Star Tribune: http://www.startribune.com/local/south/245881551.html
Follow us on Facebook to keep up to date:
https://www.facebook.com/ElkoSpeedway

https://www.facebook.com/championsdriveintheater