NASCAR WHELEN ALL AMERICAN SERIES DRIVER INFO
Rules – 2014 Rules are in the process of being revised.  Continue to watch our website for the updated rules.
2013 Figure 8 Trailer Race Rules
If you have further questions after reading the rules, please contact Bob Drewry at tech@elkospeedway.com or call him at (612)282-4370.
Driver Forms
2014 Punch Card/Pit Slab/Driver Registration Form
Motor Pit Admissions
NASCAR License: Late Model $ 190, All Other $ 95 (All NASCAR Memberships must be submitted on original NASCAR gray form.)
INEX Membership $150
Nightly Pit Stall Rental $25 + tax
NASCAR Whelen All-American Series/Eve of Destruction Pit Pass $ 40 ($35 with NASCAR Membership) Sales tax is included up to the price of a general admission ticket per the sales tax division at the MN Department of Revenue.
6th Annual Thunderstruck 93/11th Annual Thunder Car Nationals Per Day Pit Pass $40/day.  Sales tax is included up to the price of a general admission ticket per the sales tax division at the MN Department of Revenue.
All cars must have a transponder.  Transponders are available for purchase or rent in the tire building.
If you have any further questions, please call the office at (952)461-7223 or email info@elkospeedway.com
Spectator Drag/Outlaw Rules
Enter through the pit gate by no later then 6:00 pm.  Let the ticket attendant know you are running the Outlaw or Spectator Drag and they will ask you your name,hometown, make and model of the vehicle.  They will then give you a card with either a number or a letter.  Bring this card to the person at the gate enterance and they will letter or number your car.  Please park in the motorpits and be ready to race.  Listen to the PA Annoucements in the pits and you will be directed to stage your car in line approximately 10 minutes before the event.
Spectator Drags: Must be a street legal vehicle
Outlaw Spectator Drags: Any car qualifies!  Be ready to race the track in both directions, clockwise and counterwise.
Track Rental
The track is available for rent on Thursdays or Fridays for $1,000 per 4 hours + tax.  For more information or to rent the track, please call the ofice at 952-461-7223.
Saturday Event Schedule
2:00 pm – Back Gate Opens
4:00 pm – Practice by Class for 1 hour
5:00 pm – Front Gate Opens
5:00 pm – Draw Closes
5:30 pm – Driver's Meeting in Champions
6:00 pm – Time Trials begin
7:00 pm – Opening Ceremonies/First Race
** Times Subject To Change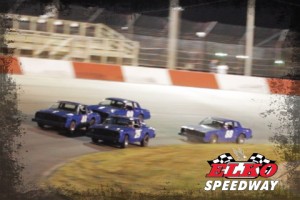 Elko Speedway Track Car Rentals
At Elko Speedway we have a fleet of identical Track Cars. These race cars are available to rent for use on Elko Speedway's high-banked 3/8 mile paved oval race track. Each of these Track Cars is comparable to the NASCAR Powerstock division that races every Saturday night at Elko Speedway. Book your NASCAR adventure at the track today! Bring your friends, clients or co-workers and experience the thrill of being behind the wheel. Don't pass up on this unique opportunity to have your own race at the Midwest's center for speed, Elko Speedway!
Hold your next family gathering, corporate event, bachelor, bachelorette or
birthday party at Elko Speedway and enjoy what racing has to offer.
Eat dinner, listen to music and have drinks in Champions Event Centre,
and make it a night to remember!
Prices Start @ $150 Per Car for Two 5 Lap Races
(Group Discounts Available)
For more Information and Reservations contact Denise at:
(952) 461-7223
or
Denises@elkospeedway.com
Overnight Rules
1. Must be parked on a pit slab with a gray tarp covering the car.
2. The car cannot leak any fluids.
3. Driver must purchase a 15 punch season pass, NASCAR license and pit slab for the year.
4. Thursdays (which we are open for practice) and Saturdays after pit gates open
are the only times the race car can be worked on.
5. Elko Speedway will not be responsible for theft or damage to the car while parked on the premises.
Parking is at your own risk.