Visit us this summer
June 5th – Sept. 6th, 2015
Open Wednesday-Saturday
SPECIALS IN 2015
WED: CAR LOAD NIGHT $10 per car
THUR: 2 for 1 Night (Adult Admission)
FRI: DATE NIGHT!

SAT: RACING & A MOVIE
Wednesday 7/01- Saturday 7/04
Playing 1st:
Jurassic World
Twenty-two years after the events of Jurassic Park, Isla Nublar now features a fully functioning dinosaur theme park, Jurassic World, as originally envisioned by John Hammond. After 10 years of operation and visitor rates declining, in order to fulfill a corporate mandate, a new attraction is created to re-spark visitors' interest, which backfires horribly.
Rated PG-13
Playing 2nd: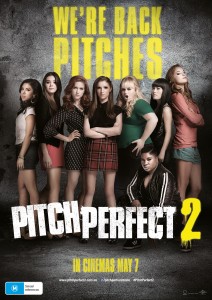 Pitch Perfect 2
After a humiliating command performance at Lincoln Center, the Barden Bellas enter an international competition that no American group has ever won in order to regain their status and right to perform.
Rated PG-13
——————————————————————————————————————————————————————————————————————————————
Gates open at 7:30pm each night, tickets cost $8.00 per adult and $5.00 for children (ages 4-12), ages 3 and under are free. On race nights gates open @ 5pm and ticket prices are $15 for adults and $5 for children. Children must be accompanied by an adult. On Saturday nights, after races, ONE movie will be included with a race ticket – after 8:30pm on race nights adults will be $8.00 and children $5.00. Please plan accordingly. On Saturdays we suggest you "Come for the race and stay for the movie."

Directions: Elko Drive-In Theater is just a half hour south of downtown Minneapolis, one mile and a half west of I-35 at the Elko-New Market Exit 76.
Elko Racing & Entertainment
26350 France Avenue
Elko New Market, MN 55020
(952) 461-7223

Food
Hamburger – $5.00
Cheeseburger – $6.00
Bacon Cheeseburger – $6.50
Hot Dog – $3.50
Bratwurst – $4.50
Chicken Strip Basket with Fries – $6.00
Cheese Curds – $6.00
French Fries – $3.00 with Cheese – $4.00
Pretzel with or without cheese $4.00
Nachos & Cheese $4.00
Small Popcorn $3.00
Large Popcorn $4.50
All Candy and Peanuts $3.00
Beverages
Gatorade or Rockstar $3.00
20oz. Bottled Soda or Water $3.00
Beer $4.00
Beer Bucket (5 beers) $16.00
Wine $5.50
(prices subject to change)
Elko Drive-In Theater
26350 France Avenue
Elko New Market, MN 55020