RACING AT ELKO!
Welcome to Elko Speedway, widely considered the premier racing facility in the Mid-west. We sincerely hope you will come and visit us often, and trust you will enjoy not only the racing, but all of the entertainment we provide at our facility.
LOCATION:
Elko Speedway is located a half hour south of downtown Minneapolis just a mile and a half west of I-35 at the Elko-New Market Exit 76.
Elko Speedway
26350 France Avenue
Elko New Market, MN 55020

THE TRACK:
CLICK IMAGE FOR PRINTABLE VERSION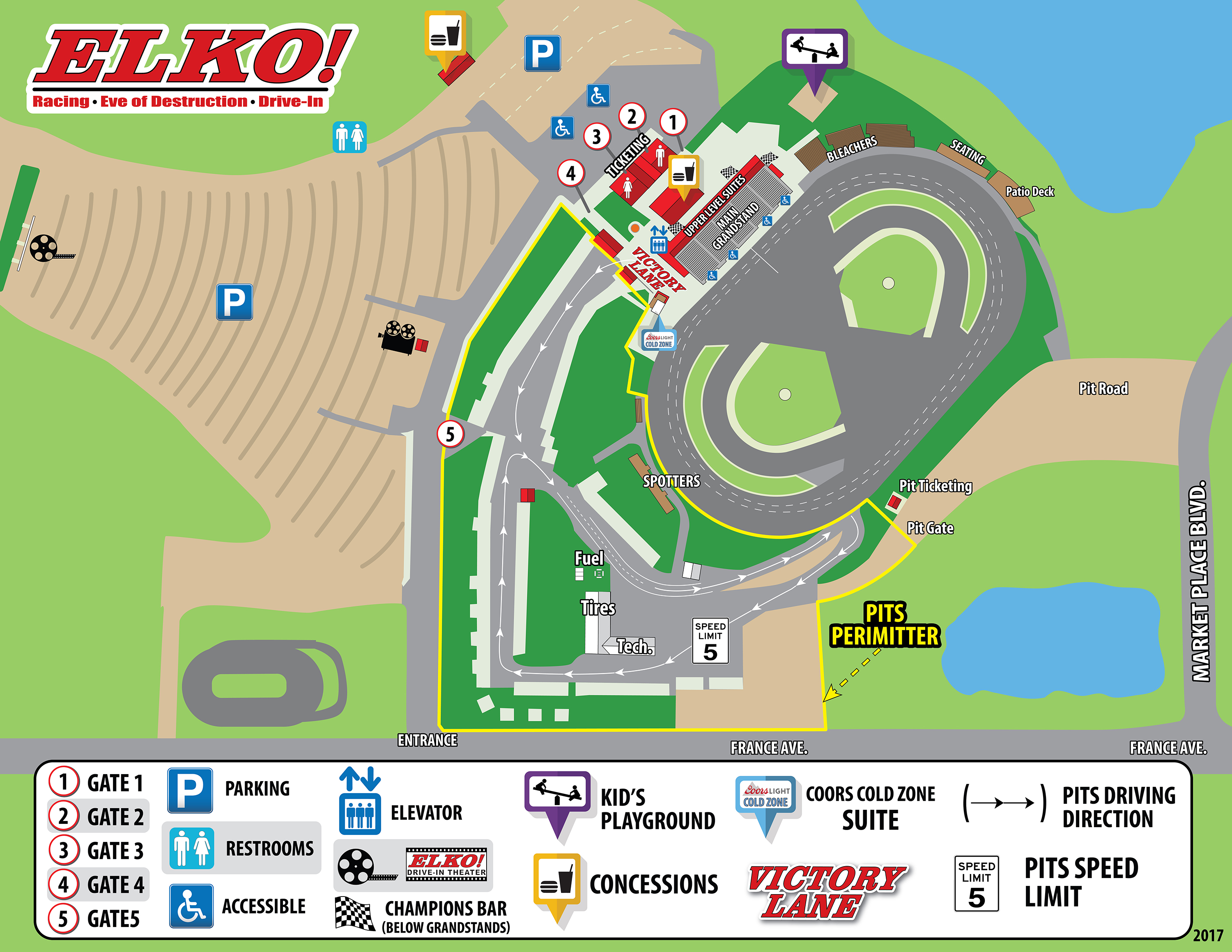 CLICK IMAGE FOR PRINTABLE VERSION
Elko Speedway is a high-banked 3/8 mile paved oval allowing for 2 and sometimes 3 wide racing. Both outside and inside track lights allow for fantastic fan viewing during night events. The Cars: Elko Speedway has three divisions that race under the NASCAR Banner. The Late Models are highly modified with fabricated frames and fiberglass or aluminum bodies with specialized power plants. Thunder Cars are stock cars with minor engine and suspension modifications allowed. Power Stocks are a low-cost entry level division that are nearly straight from the factory.Other common divisions that also compete at Elko Speedway include the Great North Legends and Bandoleros.
AFFILIATION:
Elko Speedway has been affiliated with the National Association of Stock Car Auto Racing (NASCAR) since 1987. Elko Speedway flies the banner of the Whelen All American Series which allows our competitors to challenge other drivers from approximately 60 other tracks throughout the season.
ATTENDANCE:
Elko Racing & Entertainment caters to nearly 250,000 race fans and entertainment seekers per year. ELKO! Features the famous Eve of Destruction®. Champions Bar is open during each event and often features live music.