August 7, 2021 – Elko, MN
By Jason D Searcy
Cloudy skies and much needed rain was in the forecast but that did not deter a large number of fans who attended Eve of Destruction at Elko Speedway Saturday night.
The NASCAR Late Models sponsored by the Car Lot of New Prague raced two 25 lap feature events at Elko Speedway.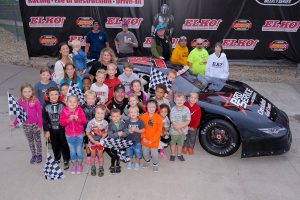 Twenty of the top cars in the Northland started the first Late Model feature and #21 Adam Bendzick from New Prague (MN) took the lead right from the green flag, a caution period slowed the field on lap 8. Michael Haggar #19 grabbed the lead off the restart, after a few laps Bendzick challenged Haggar for the top spot, they raced side by side and Bendzick finally reestablished himself as the leader with 5 laps to go. Bendzick won by 1.067 seconds at the finish line, it was his second win of the season at ELKO. Michael Haggar finished second, #40 Michael Beamish was third, #3 Chris Marek fourth and fast-qualifier #72 Jacob Goede raced up from his 13th starting position to finish fifth. Chad Walen #52 started twelfth and finished 10th.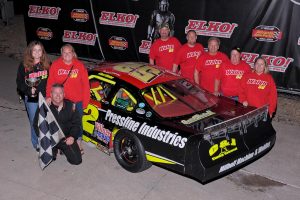 The second NASCAR sanctioned Late Model feature at Elko Speedway had #53 Jared Duda and #14 Grant Brown fighting side by side for the lead, Brown finally took over the top spot on lap 4 of 25. Second row starter #52 Chad Walen from Prior Lake (MN) flew up to the high side to pass Brown for the lead on lap 10 and then gained a nice advantage on the field. Jacob Goede started the race 9th and picked his way up to the runner-up position with just a few laps to go, he then challenged Walen for the win. Goede tried low in turns 1 and 2 and then high in turns 3 and 4 but the door was closed on both sides of the track, the crowd erupted on the last lap as the drivers had contact on the last lap. Chad Walen ended up with the victory by a margin of only 0.098 seconds at the checkers, it was his second win of the season at Elko Speedway. Jacob Goede was second, #06 Owin Giles third, #8 Billy Mohn fourth and Grant Brown fifth of the 20 cars entered.
Jacob Goede now has a 62 point lead over Chad Walen in the race for the 2021 Late Model points championship at ELKO.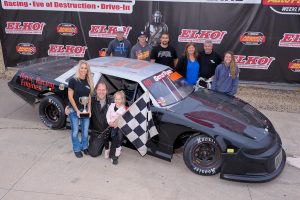 The first 20 lap Genz-Ryan Thunder Car feature had #75 Keith Paulsrud take the early lead, on the third lap cars were bunched up and going three-wide, veteran driver #90 Harm Alken took advantage and shot to the front from the inside groove, this was the first race night in nearly 4 years for the driver from Prior Lake (MN) who just got this car put together hours before the green flag dropped. Matt Wiebusch #09 then challenged Alken for the top spot and took the lead from the high side on lap 7, Alken admitted he was knocking off some rust after not racing in quite some time. Fast qualifier #07 Dillon Sellner was making his way to the front from the 10th starting position and numerous drivers were clogged up at the front of the field. Alken drove hard and held his position down low and Wiebusch got loose on the high side and dropped back on the last lap, Alken ended up winning by just 0.461 seconds, Dillon Sellner was second, Matt Wiebusch third, #9 Adam Wiebusch fourth and #3 Conrad Jorgenson fifth of the 10 cars entered.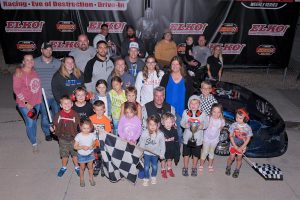 The second NASCAR sanctioned Thunder Car feature during Eve of Destruction at Elko Speedway had #75 Keith Paulsrud again taking the lead, he was then overtaken by 6-time ELKO Champion #3 Conrad Jorgenson from Lakeville (MN) on lap seven. Jorgenson then shot ahead of the field and won by 2.961 seconds, it was the 7th win of the season for Jorgenson and he has well over 150 wins in his career. Dillon Sellner #07 finished second, #9 Adam Wiebusch third, #92 Norm Grabinger fourth and Keith Paulsrud was fifth. Both of the feature events were run green to checkers without a caution period.
Jorgenson now has a 7 point lead over Dillon Sellner and 26 point lead over Adam Wiebusch in the battle for the ELKO Thunder Car Championship.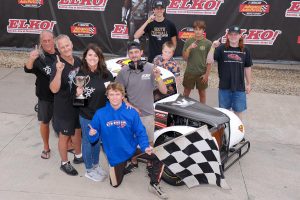 The INEX Sanctioned Great North Legends had 19 cars entered and they raced two 20 lap features at ELKO on Saturday night. In the first feature #64 Tyler Ledbetter took the early lead, cars went three-wide on lap three and the #3 car of Dirk Henry took the lead with a high-side pass. On lap ten Austin Jahr #47 from Farmington (MN) made his way up from his fifth row starting position to challenge for the lead, Jahr finally took over the top spot on lap 12 and then sprinted ahead to a nice lead, he crossed the finish line 1.611 seconds ahead of his competitors, winning for the 3rd time this year at Elko Speedway. All the excitement was behind him as a handful of cars sliced in and out swapping positions. Dirk Henry finished second, #71 Jon Lemke third, #8 Colin Stocker just inches behind in fourth and #7 Jacob Tiegen fifth. Fast-qualifier #87 Rob Carter was sixth.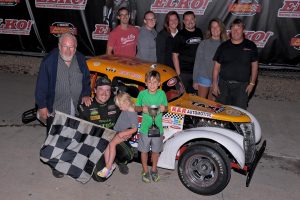 The second Legends feature had #9 Blake Haynes taking the early lead until the yellow flag was displayed before lap two. Veteran driver but rookie Legends racer Ryan Rose #33 took the lead off the restart. Keith Paulsrud #03 from Rogers (MN) has only raced a Legends car at ELKO once before after racing in Wisconsin a couple times earlier this year. Keith Paulsrud is an experienced driver, he currently races in both the Modifieds and Thunder Car divisions at ELKO. Paulsrud has caught on to these motorcycle motor powered cars much quicker than usual, he passed Rose on lap seven and took over the race lead, he then felt the pressure of numerous drivers challenging for the lead, Jacob Tiegen from Iowa was side by side with Paulsrud for numerous laps but Keith Paulsrud was able to hold him off at the finish line by 0.052 seconds. Jacob Tiegen was second, Robby Carter #87 was third, #47 Austin Jahr fourth and #3 DIrk Henry fifth all finishing within 0.4 seconds of the leader. This was the first win for Keith Paulsrud in a Legends car.
Robby Carter now has a 38 point lead over Jon Lemke and 69 point lead over Colin Stocker in the race for the ELKO Legends Championship.
All points and results are unofficial.
The huge Eve of Destruction crowd was also entertained by a sibling Monster Truck team featuring Brandon and Mikalya Tulachka in their trucks named Just Get Er Done.
Also the Minnesota Professional Towing Association special Spectator Drags, School Bus races and the debut of the Wheel of Destiny act on the Concourse.
Saber Legion put on LightSaber dueling demonstrations and numerous Children dressed up as their favorite Star Wars Characters.
Coming up next is a NASCAR race night Saturday August 14th, gates open at 5pm, action on track just before 6pm.
Elko Speedway is a NASCAR sanctioned ⅜ mile asphalt oval race track with stadium seating located 30 minutes South of the Twin Cities in Elko-New Market (MN).
Get more information at ElkoSpeedway.com, follow us on social media or download our free app by searching Elko Racing.