Spectator Admission
Skybox Suites
Track Info
Hotel Information
Elko Speedway Rules & Policies
Track Cars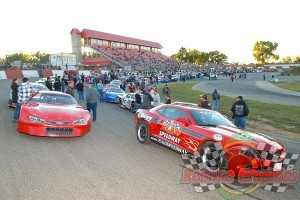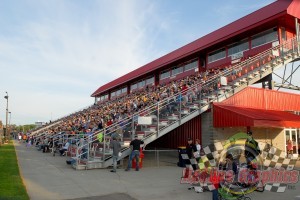 Track Info
Welcome to Elko Speedway, widely considered the premier racing facility in the Mid-west. We sincerely hope you will come and visit us often, and trust you will enjoy not only the show, but our entire facility. Below are the answers to some frequently asked questions. If there is more information you need, please feel free to contact us at your convenience.
Location:
Elko Speedway is located a half hour south of downtown Minneapolis just a mile and a half west of I-35 at the Elko-New Market Exit 76. The History: 2013 marks the 48th year of racing at Elko Speedway including the infamous "parking lot race" which was the first ever event when the original race track construction was delayed.
The Track:
Elko Speedway is a high-banked 3/8 mile paved oval allowing for 2 and sometimes 3 wide racing. Both outside and inside track lights allow for fantastic fan viewing during night events. The Cars: Elko Speedway has four divisions that race under the NASCAR Banner. The Super Late Models are highly modified with fabricated frames and fiberglass or aluminum bodies with specialized power plants. The Big 8 are mid-sized sedans with stock sheet metal and major engine and suspension modifications. Thunder Cars are stock cars with minor engine and suspension modifications allowed. Power Stocks are a low-cost entry level division that are nearly straight from the factory. They must have stock engines, transmissions, rear ends and components. Other common divisions that also compete at Elko Speedway include the Legends, Mini-Stocks, and Figure 8 cars.
Affiliation:
Elko Speedway has been affiliated with the National Association of Stock Car Auto Racing (NASCAR) for the past 28 years. Elko Speedway flies the banner of the Whelen All American Series which allows our competitors to challenge other drivers from approximately 60 other tracks throughout the season.
Attendance:
Elko Speedway and Champions Entertainment Centre caters to nearly 250,000 race fans and entertainment seekers per year. There are over 30 racing nights on the 2013 schedule including the famous "Eves of Destruction". Champions Entertainment Centre is open after each event featuring live music. Champion's also brings in the biggest known bands from throughout the mid-west on Saturday nights during the racing off-season.
Elko Speedway Track Car Rentals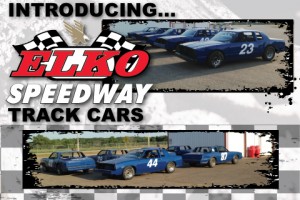 At Elko Speedway we have a fleet of identical Track Cars. These race cars are available to rent for use on Elko Speedway's high-banked 3/8 mile paved oval race track. Each of these Track Cars is comparable to the NASCAR Powerstock division that races every Saturday night at Elko Speedway. Book your NASCAR adventure at the track today! Bring your friends, clients or co-workers and experience the thrill of being behind the wheel. Don't pass up on this unique opportunity to have your own race at the Midwest's center for speed, Elko Speedway! Hold your next family gathering, corporate event, bachelor, bachelorette or birthday party at Elko Speedway and enjoy what racing has to offer. Eat dinner, listen to music and have drinks in Champions Event Centre, and make it a night to remember!
Prices Start @ $150 Per Car for Two 5 Lap Races
10 cars total, 4 car minimum per group
(Group Discounts Available)
For more Information and Reservations contact Denise at:
(952) 461-7223
or
Denises@elkospeedway.com
ELKO SPEEDWAY RACING DIVISIONS
Super Late Models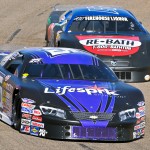 The Speed Demons of Elko Speedway, the Super Late Model division is the top NASCAR division competing as part of the NASCAR All-American Series. Built on a made for racing frame, combined with a high horsepower engine under the hood, these cars aren't for the weak. Drivers in this division compete not only with other Elko Drivers but with drivers at other NASCAR Sanctioned facilities for top honors in the State and across the Nation!
Big 8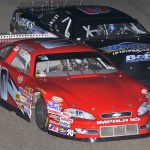 Providing door handle to door handle action every Saturday night, the Big 8 division brings the fans to their feet night after night. With blistering speeds and daring drivers, don't take your eyes off the action even for a moment. These drivers dazzle all in attendance with their side by side racing, be sure to remind yourself you are in Elko, MN, not Daytona Beach, FL
Genz-Ryan Thunder Cars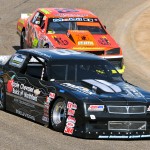 When the Thunder rolls, the Lightning strikes. When the Thunder Cars roll on the track, the lightning will strike! In between a Big 8 and a Power Stock car, Thunder Cars have found their niche at Elko Speedway. With a talented group of drivers strapping in behind the wheel each time they take to the speedway, Thunder Cars provide earth pounding excitement that makes the ground and ones body shake.
Power Stocks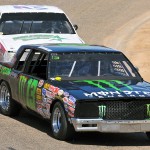 The Power Stocks allow a driver to make an impact on the sport without making too large of an impact on their wallet. Power Stocks are the entry-level NASCAR division at Elko Speedway, but the level of competition is much higher. With most components remaining stock, it is just like the sedan many fans drive to the races, just add a few years, miles and oh yeah, dents!
Mini-Stocks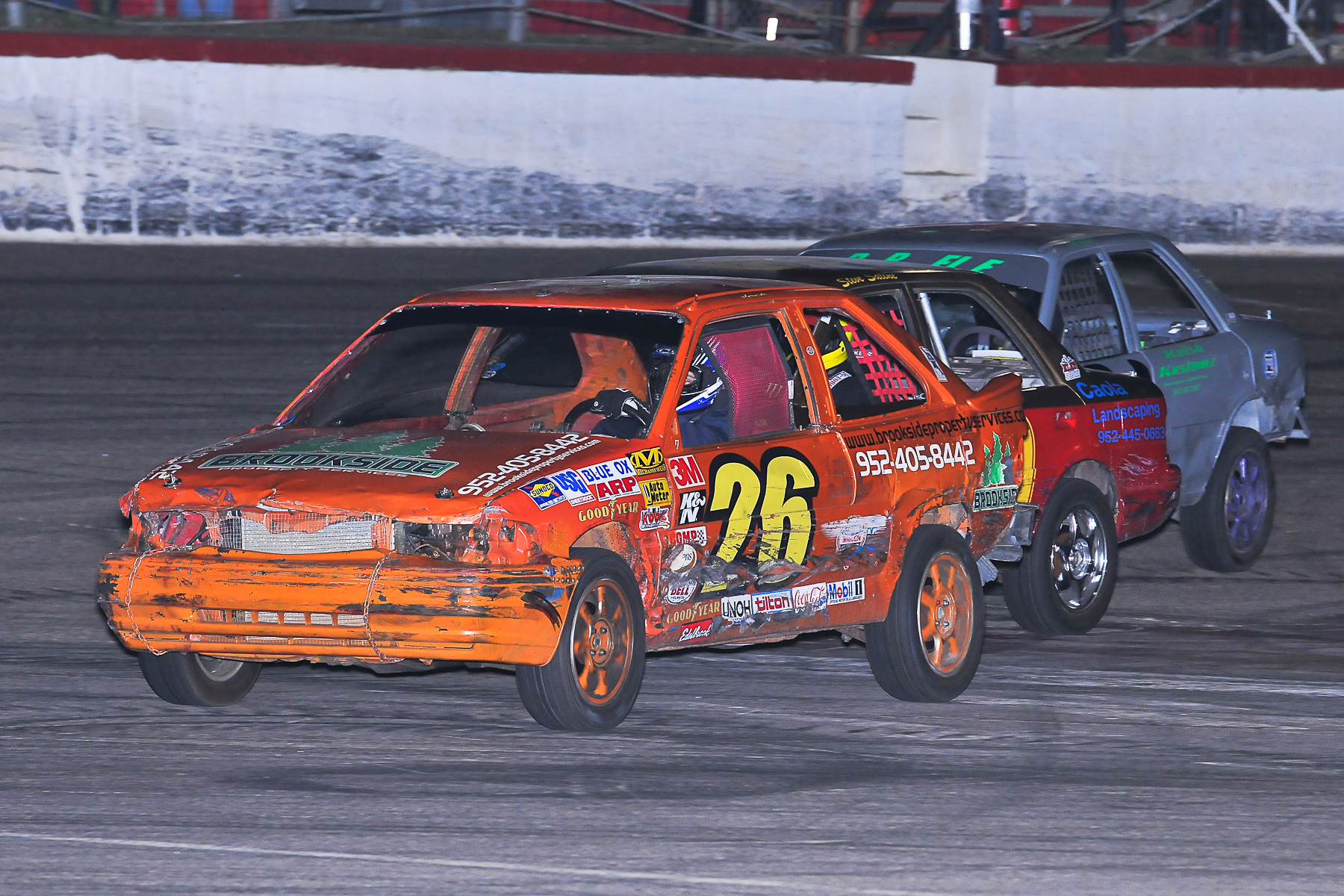 The Mini-Stocks are creating a buzz around Elko Speedway! They made their debut during the 2003 season. Described as a true entry-level division, these four cylinder cars are a throw back to the days of true stock car racing. Mini-Stocks have swarmed the nation, providing four to five wide racing along with many thrills and spills along the way.  Don't miss what all the buzz is about.
Legends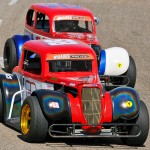 This brand of racing is popular from coast to coast!  Designed as 5/8th scale replica of 1930′s and 1940′s coupes and sedans, Legends racing provides for a level playing field as all cars are manufactored by 600 Racing of Charlotte, NC and it's up to the driver and crew to determine how much fun and success one can attain.  Some of NASCAR's your stars like Joey Logano and David Regan started racing Legends and at Elko Speedway it is not uncommon to see two, three and even four wide racing action!
Bandoleros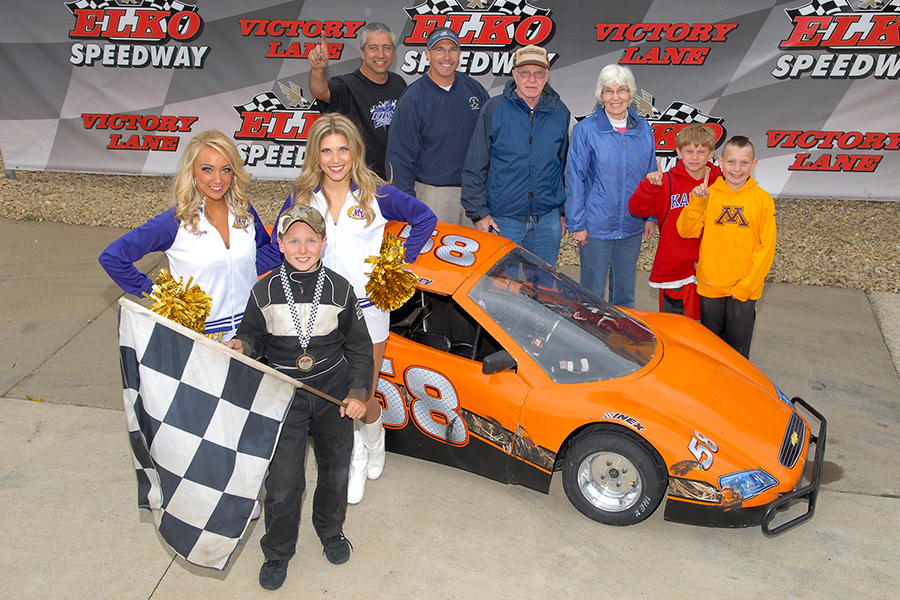 Using the same magic formula that made the Legends Cars the most mass-produced competition car in history, officials of 600 Racing, Inc. have introduced the Bandolero Car. The Bandolero Car is a turnkey, spec-series racer designed for drivers as young as eight years old and the young-at-heart at any age. Come cheer on the up and coming drivers, as they battle on our inside track.
SPECTATOR ADMISSION
Note:  For the safety of children; Children 12 and under will not be admitted without an adult for any event.  Thank you for your understanding.
NASCAR Whelen All-American Series
Adult (Ages 18 – 65) General Admission $15
Student (Ages 13 – 17) General Admission $10
Seniors (Ages 65+) General Admission $10
Children (Ages 5 – 12) General Admission $5
4 and Under General Admission FREE
** Children under 12 will not be admitted without an adult **
Eve of Destruction RAW (Racing & Wrecking) & Eve of Destruction
Adult (Ages 13+) General Admission $15
Children (Ages 5 – 12) General Admission $5
4 and Under General Admission FREE
** Children under 12 will not be admitted without an adult **
6th Annual Thunderstruck 93/11th Annual Thunder Car Nationals
Type of Ticket                                       Friday:                           Saturday:
Adult (Ages 13+) General Admission                  $15                                $20
Children (Ages 5-12) General Admission           $5                                  $5
** Children under 12 will not be admitted without an adult **
20 ticket General Admission Season Pass (Not valid on ARCA Akona Race or Concert Weekend)  $265
Sales tax is included in the above ticket prices.
SKYBOX SUITES
Temperature controlled, private party atmosphere suites with availability for 4 people, 8 people, 16 people and 24 people.  Located at top of our grandstand, with elevator access, convenient restrooms making your experience at our race track that much more fun.  Prices below based on 8 person skybox. Contact the Ticket Office at (952)461-7223 or info@elkospeedway.com for booking, availability and additional information.  Deposit is required.
Skyboxes for NASCAR Events: $200/8 people 
• Private area
• In main grandstand
• Food and hospitality service available
Bar Service available in 24 person skybox with minimum purchase.
Skyboxes for Eve of Destructions, Dirt Nationals or Hairball Concert: $250/8 people
• Private area
• In main grandstand
• Food and hospitality service available
Bar Service available in 24 person skybox  with minimum purchase.
Skyboxes for Thunderstruck 93/Thunder Car Nationals with ARCA Midwest Tour Events: Friday- $250/8 people & Saturday-$300/8 people
• Private area
• In main grandstand
• Food and hospitality service available
Bar Service available in 24 person skybox with minimum purchase.
Coors Cold Zone Trackside Suite Pricing Starts at $625.  Call for additional pricing and information (Deposit Required)
• Private area inside and on deck; climate controlled.
• Located in turn one close to Victory Lane, restrooms and bar.
• Holds up to 40 people (25 people min)
• Food and hospitality service available
Sales tax is included in the above ticket prices.
HOTEL INFORMATION
Best Western Premier Nicollet Inn
14201 Nicollet Ave. S.
Burnsville, MN 55337
952-435-2100 Hotel
Mention "Elko Speedway" & Get 15% Off
Comfort Inn
17605 Kenrick Ave
Lakeville, MN 55044
952-892-5422 Hotel
800-634-3444 Reservation Line
Mention "Elko Speedway" & Get 15% Off
GrandStay Inn
7083 153rd Street West
Apple Valley, MN 55124
952-953-6111 Hotel
Mention "Elko Speedway" & Get 15% Off
Holiday Inn
20800 Kenrick Ave
Lakeville, MN 55044
952-469-1134 Hotel
888-897-0084 Reservation Line
Mention "Elko Speedway" & Get 10% Off
ELKO SPEEDWAY AND CHAMPIONS OUTDOOR MOVIE THEATER RULES AND POLICIES
Welcome to Elko Speedway & Champions Outdoor Movie Theater (Elko). All of us at Elko welcome you and your family and friends. We hope that you have the very best experience and totally enjoy your time here.
In order for everyone to have the best time possible, please make yourself familiar with the rules and policies that are listed below.
1. NO CARRY-INS ALLOWED. For your convenience, we have concession stands located in the facility to serve all guests. All of your favorite food and beverage items are available. No food or beverage will be permitted to be brought into the facility. If items of this nature are found, they will be confiscated.
2. ALCOHOL. We want all guests of Elko to drink responsibly. No consumption of alcoholic beverages will be permitted without the following conditions:
a. You must show proper identification to prove age. You must be 21 years of age or older to consume/purchase alcohol. No minor consumption of alcoholic beverages will be tolerated. If minor consumption is involved, Elko Police will be called immediately.
b. Alcoholic beverages must be purchased at Elko.
c. Alcoholic beverages must be consumed in Elko's regulated liquor service area only.
d. Elko may refuse to serve alcoholic beverages to any person for any reason.
e. Elko may report any persons in violation of the alcohol policy to Elko New Market Police if we believe you are acting contrary to the law or in a manner which may endanger yourself, others, or their property.
f. If you are asked to leave because of an alcohol policy – no refunds will be available.
3. LOUD NOISES. No loud sound systems or excess noise of any kind. Rule of thumb: if the vehicle next to you can hear your sound system then it is too loud. Security will issue one warning to lower the volume of your sound system or any excessive noise. The second incident will result in that "group" being asked to leave the premises. No refunds will be issued.
4. LIGHTS. No use of bright lights, flares, sparklers, fireworks, head lights, dome lights, etc. Anything that generates light will not be permitted. Lighting will be available around the parking areas and race track area to insure the safety of our patrons.
5. BEHAVIOR. We want all patrons to have the best experience possible. Our image will be shaped not only by our staff, drivers, teams, but our patrons as well. Our goal is to ensure that every patron experiences the high-energy environment but that we also create a safe and supportive environment for everyone while maintaining a wholesome, family oriented atmosphere. To ensure that all patrons have a pleasant experience at our facility, each guest should act responsibly and be considerate of others. Be on your best behavior. Elko Speedway security personnel will respond to complaints of misconduct. Remember, Elko is privately owned so patrons who fail to comply with Elko policy and rules after being warned will be subject to ejection or arrest. No refunds are available if you are asked to leave. Below are some behavior guidelines:
a. Patrons are asked to wear shoes, pants, and shirts at all times.
b. No public urination will be allowed.
c. No abusive language or contact will be allowed. Anyone exhibiting this behavior will be asked to leave the premises without a refund. If necessary, Police will be summoned.
d. Be courteous and respectful of others around you. Do not sit in aisles/walkways.
e. Smoking is permitted in designated areas.
f. Patrons caught throwing any items will be immediately removed from the property, with the possibility of being prosecuted under Minnesota law.
g. Please pick up after yourselves. Garbage/Recycling cans are available all over the facility.
h. All bags, purses, blankets, cars, etc. are subject to search by Elko security prior to entering the premises. Prohibited items or contraband that is discovered during security inspections at any time will be confiscated. Unlawful items that are discovered during security inspections will be reported to the Police.
6. PROHIBITED ITEMS. To ensure that all patrons have a safe and enjoyable visit to Elko Speedway and Champions Outdoor Movie Theater, the following items, are examples but not limited, will not be permitted to be brought onto the premises:
a. Coolers
b. Glass containers
c. Weapons
d. Illegal drugs
e. Fireworks, sparklers, flares, etc.
f. Laser lights, etc.
g. Alcoholic beverages
7. OVERNIGHT PARKING. Overnight parking is allowed at no charge but must be done in designated areas and on a first come first serve basis. There are no hookups. No grilling or fires permitted unless you are using a designated fire pit.
8. MISCELLEANOUS ITEMS. Below is a list of other rules and policies for Elko.
a. There will be absolutely no re-admittance once you leave Elko. You will not be able to return.
b. It is your responsibility to prove that you purchased a ticket. If you are asked to prove purchase you must be able to produce your ticket.
c. Any person under the age of 14 must be accompanied by an adult.
d. It is up to every individual to know the curfew laws. Anyone on Elko's property under age, after curfew times without a parent or guardian will be asked to leave without a refund.
e. No grilling or open fires except in designated fire pits.
f. NO PETS allowed on our premises unless it is a guide dog to aid the visually impaired, hearing impaired or physically disabled.
g. Articles found during an event will be turned into the lost and found at the Souvenir Stand.
h. Handicap seating for racing is located at the bottom of the center grandstand with companion seating adjacent to this designated area.
9. PAYMENT FORMS. Elko accepts the following payments: Cash or Credit (MasterCard or Visa only) for payment at the ticketing entrance or Champions Entertainment Center. Concessions are cash only. Elko has an ATM machine for your convenience and it is located inside Champions Entertainment Center located under the grandstands.
10. PARKING. Parking is always free with a ticket in designated areas. Please allow our security team to show you were parking is located. Handicap and Disabled Parking is available in our designated area located on the blacktop. You must have your disabled parking pass issued by your state displayed in your window or on your license plate. Motorcycle Parking is located just east of the A frame office building. These special areas are clearly marked.
11. EMERGENCIES. In case of an emergency, please find security personnel to assist you.
a. LOST CHILDREN - Elko personnel will escort children whom become separated from their families to the souvenir stand until their families are located. If you are looking for your lost child, please find the nearest Elko Security personnel.
b. FIRST AID – If you are in need of first aid and it is not a dire medical emergency, please contact Elko Security personnel for assistance. If it is a dire emergency have someone call 911, then alert Elko Security personnel.
c. INCLEMENT WEATHER – Elko Security and Personnel will direct you in what to do in the case of inclement weather.
12. SECURITY. Elko Security personnel will be stationed throughout the premises. Should you require assistance, please contact Security or the nearest Staff Member. The appropriate person or agency will be dispatched to your location to assist you.
Thank you for respecting our rules and policies. We know you will appreciate and understand why we need to detail and enforce these rules and policies. It is extremely rare that speedways and outdoor movie theaters even exist in this day and age. In order for Elko to continue to provide this experience, we need everyone to stay within these rules and policies to respect our neighbors and this amazing community of Elko New Market.
Thank you and have a great time.
Elko Speedway and Champions Outdoor Theater Staff